Malwarebytes Premium 2020 Anti-Malware Lifetime
Malwarebytes Premium 2020 Anti-Malware Lifetime
Protect Your Digital World with Malwarebytes Premium 2020 Anti-Malware!
In today's digital age, safeguarding your valuable data and online presence is of utmost importance. The internet has opened up endless possibilities, but it also exposes us to various cyber threats. Viruses, malware, ransomware, and other malicious software can wreak havoc on your devices, compromising your privacy, security, and productivity. That's where Malwarebytes Premium 2020 Anti-Malware comes to the rescue! Welcome to the future of digital protection, brought to you by www.CheckKeys.com.
Why Malwarebytes Premium 2020 Anti-Malware?
In a world where cyber threats are evolving rapidly, staying ahead of the curve is crucial. Malwarebytes Premium 2020 Anti-Malware is your digital shield against a multitude of online dangers, providing you with an all-encompassing defense mechanism for your devices. Let's dive into the exceptional features that make this product an absolute must-have:
Real-Time Threat Detection and Removal: Malwarebytes Premium 2020 Anti-Malware employs cutting-edge technology to continuously monitor your device for any suspicious activity. The moment it detects a threat, it springs into action, swiftly eliminating malware, ransomware, spyware, and other malicious software before they can do any harm. Your data and privacy are protected 24/7.
Advanced Anti-Malware Engine: Our product boasts a robust anti-malware engine that identifies and neutralizes even the most sophisticated malware strains. Say goodbye to the fear of falling victim to the latest cyber threats – Malwarebytes Premium 2020 Anti-Malware is always one step ahead.
Web Protection and Phishing Defense: The internet can be a dangerous place, with malicious websites and phishing attempts lurking at every corner. Malwarebytes Premium 2020 Anti-Malware shields you from harmful websites, ensuring that your online experience remains safe and secure. You'll be able to browse with confidence, knowing that your personal information is protected.
Ransomware Protection: Ransomware attacks are on the rise, and they can devastate your digital life. With Malwarebytes Premium 2020 Anti-Malware, you're shielded from ransomware attempts. Your files and documents are safeguarded against encryption and extortion, ensuring your peace of mind.
Lightning-Fast Scans: We understand the importance of your time, which is why Malwarebytes Premium 2020 Anti-Malware offers lightning-fast scans that won't slow down your device. Enjoy efficient protection without the frustrating delays often associated with other security software.
Multi-Device Compatibility: Our product is designed to cover all your devices – from Windows PCs to Macs, Android smartphones to iOS devices. Protect your entire digital ecosystem with a single, convenient solution.
Automatic Updates: Cyber threats are constantly evolving, and so is Malwarebytes Premium 2020 Anti-Malware. You'll receive automatic updates to ensure you always have the latest protection, ready to combat the newest threats.
Enhanced Privacy Protection: Your privacy matters. Our product includes features that protect your personal information from being harvested by cybercriminals, keeping your sensitive data out of the wrong hands.
Light on Resources: We've optimized Malwarebytes Premium 2020 Anti-Malware to run smoothly in the background without hogging your device's resources. You can carry on with your tasks and enjoy peak performance without interruptions.
Seamless User Experience: Navigating the digital world should be effortless, and that's what we deliver. Our user-friendly interface ensures that even non-tech-savvy users can access and utilize advanced security features with ease.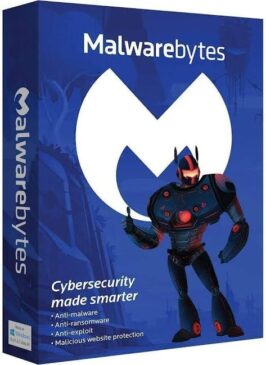 Why www.CheckKeys.com?
At www.CheckKeys.com, we take your digital security seriously. We understand that online threats can strike at any moment, and you need immediate protection. That's why we offer a range of unbeatable benefits:
Money-Back Guarantee: We stand by the quality of our products. If for any reason you're not satisfied, we offer a hassle-free money-back guarantee. Your satisfaction is our priority.
Genuine Product Key: When you purchase Malwarebytes Premium 2020 Anti-Malware from us, you receive a genuine product key. Say goodbye to counterfeit or pirated software – your digital protection is in safe hands.
Fast Product Activation: We know you can't wait to secure your devices. Our swift product activation process ensures you're up and running in no time, ready to face the digital world with confidence.
Fast Email Delivery: Within 2 to 24 hours of your order, you'll receive your product key via email. No long waiting times or delays – your security is our top concern.
24-Hour Customer Support: We're here for you around the clock. If you ever encounter an issue or have a question, our dedicated customer support team is just a message away. Your peace of mind matters to us.
Act Now!
The digital world is unforgiving, and threats can strike at any moment. Don't wait until it's too late. With Malwarebytes Premium 2020 Anti-Malware, you have an unmatched defense system at your disposal. Protect your data, privacy, and peace of mind – all with a single, powerful solution.
But remember, time is of the essence. At www.CheckKeys.com, we're offering this exceptional product at an incredible discount. This is your chance to secure your digital world for less. Act now and take advantage of this limited-time offer – before the opportunity slips through your fingers.
Don't compromise on your digital security. Embrace the future of protection with Malwarebytes Premium 2020 Anti-Malware. Purchase today at www.CheckKeys.com and fortify your digital fortress like never before. Your digital safety is our priority, and we're here to make it a reality.