Microsoft Windows 8.1 Pro 32 /64-bit Product Key
Microsoft Windows 8.1 Professional License Key
Unlock Limitless Possibilities with Microsoft Windows 8.1 Pro 32/64-bit Professional
In the digital age, your operating system is the cornerstone of your digital life. It's the bridge that connects you to a world of endless opportunities, productivity, and creativity. And when it comes to Windows operating systems, Microsoft has consistently led the way in innovation and user-friendly interfaces. If you're looking for the perfect balance between performance and efficiency, look no further than Microsoft Windows 8.1 Pro 32/64-bit Professional, available exclusively at www.CheckKeys.com.
Why Windows 8.1 Pro?
Windows 8.1 Pro is the pinnacle of Microsoft's operating system evolution, designed to cater to both the professional and casual user. This powerful operating system brings together the best of both worlds - the robustness needed for business tasks and the user-friendliness required for personal computing.
Seamless Compatibility
One of the standout features of Windows 8.1 Pro is its compatibility. Whether you're a business professional, a gamer, or a student, this OS ensures that your software and hardware work in perfect harmony. It effortlessly connects with your existing devices, applications, and peripherals, making your digital life smoother than ever before.
Enhanced Multitasking
Are you tired of switching between applications and windows constantly? Windows 8.1 Pro introduces an improved multitasking experience that allows you to work smarter, not harder. The split-screen feature lets you view and interact with two apps simultaneously, boosting your productivity and efficiency. Whether you're conducting research while taking notes or watching a video while working on a project, the possibilities are endless.
Familiar Start Button with Modern Twist
Windows 8.1 Pro brings back the beloved Start button, providing a comforting sense of familiarity. However, it takes things a step further with a modern twist. The Start screen has been optimized for touch devices, making navigation effortless, even on tablets and touchscreen laptops. Quickly access your favorite apps, files, and settings with a simple tap or click.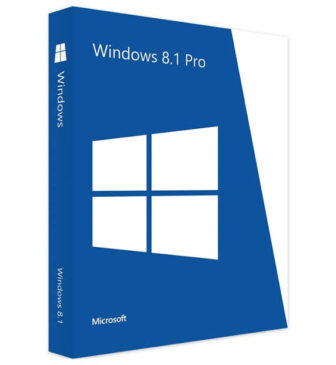 Rock-Solid Security
In today's digital landscape, security is paramount. Windows 8.1 Pro takes your protection seriously. With features like Windows Defender and SmartScreen, your system is safeguarded against viruses, malware, and phishing attempts. Plus, BitLocker encryption ensures that your sensitive data remains confidential, whether you're using your device at home or on the go.
Enhanced Performance
Experience a noticeable boost in performance with Windows 8.1 Pro. The streamlined architecture and improved resource management ensure that your system runs smoothly, even when handling resource-intensive tasks. This means quicker boot times, faster application launches, and a more responsive overall experience.
Built-in Apps for Enhanced Productivity
Windows 8.1 Pro comes pre-loaded with a range of productivity-enhancing apps. Microsoft Office Suite, OneDrive, and Skype are just a few examples of the powerful tools at your disposal. Whether you're crafting reports, collaborating on projects, or staying connected with loved ones, these apps are designed to simplify your life.
App Store for Endless Possibilities
Explore the Windows Store and discover a vast ecosystem of apps designed to cater to your every need. From entertainment and gaming to productivity and creativity, there's an app for everyone. Stay up-to-date with the latest trends, or find niche applications that cater to your specific interests - the Windows Store has it all.
Seamless Cloud Integration
With Windows 8.1 Pro, your digital world follows you wherever you go. OneDrive integration allows you to access your files, photos, and documents from any device with an internet connection. Say goodbye to the limitations of physical storage and embrace the freedom of the cloud.
Innovative Search Functionality
Finding what you need has never been easier. Windows 8.1 Pro introduces an intuitive and efficient search feature that scours your device, the web, and your OneDrive simultaneously. Whether you're looking for an app, a document, or information, you'll have it at your fingertips in an instant.
A World of Entertainment
When it's time to unwind, Windows 8.1 Pro transforms into your personal entertainment hub. With Xbox integration, you can access your gaming profile, achievements, and even stream games from your Xbox console to your PC. Enjoy your favorite music and videos with the pre-installed Xbox Music and Video apps, and explore a world of entertainment possibilities.
Upgrade Now with www.CheckKeys.com
Now that you've seen the incredible features and capabilities of Windows 8.1 Pro, you might be wondering where to get it. Look no further than www.CheckKeys.com, your trusted source for digital products online. We understand the importance of a smooth, reliable operating system, which is why we offer only genuine product keys.
Why Choose www.CheckKeys.com?
At www.CheckKeys.com, we go the extra mile to ensure your satisfaction:
Money-Back Guarantee: We are confident in the quality of our products. If you encounter any issues with your purchase, we offer a hassle-free money-back guarantee.
Genuine Product Key: Don't fall victim to counterfeit keys. We provide 100% genuine Windows 8.1 Pro product keys, so you can enjoy all the features without compromise.
Fast Product Activation: Say goodbye to lengthy installation processes. With our product keys, you can activate your Windows 8.1 Pro quickly and efficiently.
Fast Email Delivery: We understand that time is of the essence. That's why we strive to deliver your product key via email within 2 to 24 hours of your order.
24-Hour Customer Support: Need assistance or have questions? Our dedicated customer support team is available 24/7 to address your concerns and provide guidance.
Act Now - Limited Time Offer
Don't miss out on the opportunity to supercharge your digital life with Microsoft Windows 8.1 Pro 32/64-bit Professional. With www.CheckKeys.com, you not only get the best price but also the assurance of a genuine product key, fast activation, and unparalleled customer support.
The digital world waits for no one. Upgrade your operating system today and experience the future of computing with Windows 8.1 Pro. Unlock limitless possibilities, enhance your productivity, and enjoy a seamless digital experience. The time to act is now. Visit www.CheckKeys.com and make your purchase today. Your digital journey begins here.