Adobe Acrobat Alternative: PDF Reader, Creator & Editor
Adobe Acrobat Alternative: PDF Editor| Creator| Converter| Reader Software
Adobe Acrobat Alternative: PDF Editor - Your Ultimate Solution for Effortless Document Management
In today's digital age, efficient document management is essential for businesses and individuals alike. PDF files have become the standard for sharing and storing documents securely, and Adobe Acrobat has long been the go-to tool for working with PDFs. However, with the rising cost of Adobe's subscription plans and the need for more accessible alternatives, there's never been a better time to explore the Adobe Acrobat Alternative: PDF Editor available exclusively at www.CheckKeys.com. This versatile and powerful software is here to revolutionize the way you handle PDFs, providing you with a plethora of features that make document management a breeze.
Why Choose the Adobe Acrobat Alternative: PDF Editor?
At www.CheckKeys.com, we understand that your document management needs are unique. That's why we've meticulously curated the Adobe Acrobat Alternative: PDF Editor to offer a comprehensive suite of features tailored to meet your specific requirements.
Effortless PDF Editing: Editing PDF files has never been easier. Our PDF Editor allows you to make text and image modifications, add annotations, insert, delete, or rearrange pages, and even merge multiple PDFs into one cohesive document. Whether you're making minor adjustments or undertaking a significant overhaul, this tool empowers you to edit with precision and speed.
Intelligent OCR (Optical Character Recognition): Turn scanned documents and images into searchable and editable text effortlessly. Our PDF Editor uses OCR technology to recognize text within images and scanned documents, making them fully searchable and editable. This feature is a game-changer for digitizing and archiving physical documents.
Secure and Password-Protected PDFs: Protect your sensitive documents with robust security features. The Adobe Acrobat Alternative: PDF Editor allows you to add password protection, encryption, and user permissions to your PDFs, ensuring that your confidential information remains safe from prying eyes.
Form Creation and Editing: Design, create, and edit interactive forms with ease. Whether it's a job application, customer survey, or feedback form, our PDF Editor enables you to add text fields, checkboxes, radio buttons, and more, transforming your static documents into dynamic, fillable forms.
Convert to Various Formats: Seamlessly convert PDFs to popular formats such as Word, Excel, PowerPoint, and more. This feature is invaluable when you need to repurpose content or extract specific data from your PDF documents.
Commenting and Markup Tools: Collaborate effortlessly with your team using annotation tools. Highlight text, add comments, draw shapes, and use the sticky note feature to provide feedback and make revisions, all within the PDF document itself.
Redaction for Data Privacy: Ensure compliance with data protection regulations by permanently removing sensitive information from your documents. The redaction tool allows you to black out or erase sensitive content, guaranteeing the confidentiality of your documents.
Batch Processing for Efficiency: Save time and boost productivity with batch processing capabilities. You can apply the same operation to multiple PDF files simultaneously, whether it's converting, watermarking, or compressing, streamlining your workflow.
Cloud Integration: Access and store your documents in the cloud with ease. Our PDF Editor integrates seamlessly with popular cloud storage services, allowing you to save, retrieve, and collaborate on your documents from anywhere with an internet connection.
User-Friendly Interface: Our intuitive interface ensures that you don't need to be a tech-savvy expert to use the Adobe Acrobat Alternative: PDF Editor. With a user-friendly layout and straightforward navigation, you'll be up and running in no time.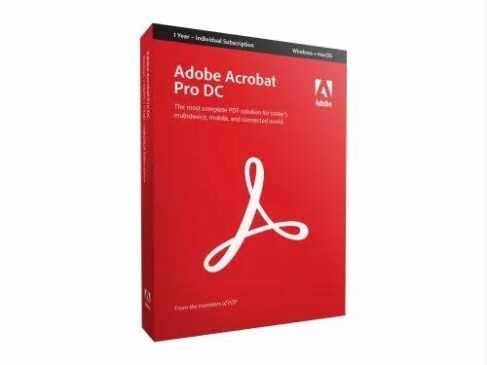 Experience Unparalleled Convenience with www.CheckKeys.com
When you choose www.CheckKeys.com, you're not just getting a remarkable PDF editing solution; you're also unlocking a world of convenience and exceptional service.
Money-Back Guarantee: We stand behind the quality of our products. If you're not completely satisfied with the Adobe Acrobat Alternative: PDF Editor, we offer a hassle-free money-back guarantee.
Genuine Product Key: Rest assured that you're receiving a legitimate product key with your purchase. Say goodbye to the uncertainties of counterfeit software.
Fast Product Activation: Get started right away with swift and straightforward product activation. No waiting, no fuss – just seamless access to your PDF Editor.
Fast Email Delivery: Time is of the essence. Our commitment to efficiency means you'll receive your product key and instructions via email within 2 to 24 hours of placing your order.
24-Hour Customer Support: We understand that questions or issues can arise at any time. That's why we offer 24-hour customer support to assist you whenever you need it. Our dedicated team is here to address your concerns promptly and professionally.
Act Now and Transform Your Document Management
The Adobe Acrobat Alternative: PDF Editor available at www.CheckKeys.com is more than just a substitute for Adobe Acrobat; it's a superior solution tailored to meet your unique document management needs. With a wide array of powerful features, user-friendly interface, and unbeatable convenience, it's the perfect time to take control of your PDF files.
Don't miss this opportunity to enhance your document management capabilities and streamline your workflow. The huge discount available at www.CheckKeys.com makes this the perfect time to invest in your productivity and efficiency.
In today's fast-paced world, efficient document management is a necessity, and the Adobe Acrobat Alternative: PDF Editor is your key to staying ahead of the game. Act now, make the smart choice, and experience the difference for yourself. Transform the way you work with PDFs and elevate your document management to new heights. Order your copy today at www.CheckKeys.com, where excellence meets affordability.