Corel Cad 2019 2D 3D Modelling Drafting Design
Corel Cad 2019 2D 3D Modelling Drafting Design for Windows
Are you an architect, engineer, or designer seeking to revolutionize your digital design process? Look no further, because CorelCAD 2019 is here to take your creativity to new heights! Whether you're a seasoned professional or an aspiring CAD enthusiast, this cutting-edge software is your ultimate solution for 2D and 3D modeling, drafting, and design. Discover the world of endless possibilities as we explore the outstanding features of CorelCAD 2019 and why it's an absolute must-have for Windows users.
Precision and Power in Your Hands: CorelCAD 2019 is engineered to provide you with unparalleled precision and power in your 2D and 3D design projects. With an array of advanced tools at your disposal, you can create intricate designs with ease. Achieve accuracy like never before, whether you're drafting detailed plans, architectural designs, mechanical drawings, or any other complex project.
Seamless Compatibility: One of CorelCAD 2019's standout features is its seamless compatibility with industry-standard file formats, including DWG, DXF, and DWF. This means you can collaborate effortlessly with colleagues and clients who use different CAD software, ensuring a smooth workflow and eliminating compatibility issues.
Intuitive User Interface: Navigating CorelCAD 2019 is a breeze, thanks to its user-friendly interface. Whether you're a seasoned CAD professional or a beginner, you'll find the software's intuitive layout and customizable options a joy to work with. Spend less time figuring out the software and more time bringing your creative visions to life.
Dynamic 3D Modeling: CorelCAD 2019 takes 3D modeling to the next level. With its robust 3D tools, you can easily create complex 3D designs and render them with stunning realism. The software supports 3D solid modeling, allowing you to create intricate 3D objects effortlessly.
Advanced Annotation and Dimensioning: Efficiently annotate and dimension your drawings with CorelCAD 2019's extensive annotation tools. Ensure your designs convey all the necessary information accurately, whether it's for architectural plans, engineering diagrams, or product prototypes.
Time-Saving Automation: Your time is precious, and CorelCAD 2019 understands that. The software offers automation features such as dynamic blocks and automation for repetitive tasks, reducing manual labor and boosting your productivity. Say goodbye to tedious, time-consuming processes, and let CorelCAD 2019 do the heavy lifting for you.
Effortless 2D Drafting: When it comes to 2D drafting, CorelCAD 2019 shines brightly. Its comprehensive set of 2D drafting tools allows you to create precise, detailed drawings with ease. Whether it's floor plans, schematics, or electrical diagrams, you can rely on CorelCAD 2019 to get the job done efficiently.
Industry-Standard CAD Features: CorelCAD 2019 is packed with industry-standard CAD features that will elevate your design capabilities. From layer management to advanced measuring and snapping tools, you'll have everything you need to produce top-quality designs that meet industry standards.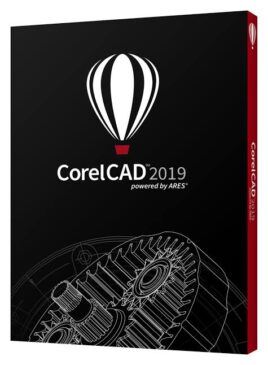 Parametric Drawing: Experience the power of parametric drawing with CorelCAD 2019. Make changes to your design at any stage while maintaining associativity with other elements. This feature ensures that your design remains flexible and adaptable, reducing the need for extensive revisions.
Photorealistic Rendering: Bring your designs to life with stunning photorealistic rendering capabilities. CorelCAD 2019 allows you to visualize your projects with exceptional realism, making it easier to communicate your ideas and concepts to clients and stakeholders.
Customizable and Extensible: Tailor CorelCAD 2019 to your specific needs with its customizable interface and support for third-party plugins. Whether you need to add specialized tools or streamline your workflow, CorelCAD 2019's extensibility ensures you have the flexibility to do so.
Unmatched Product Support: At CheckKeys.com, we take pride in offering unparalleled product support to our customers. When you purchase CorelCAD 2019, you can rest assured that you'll receive a genuine product key, fast product activation, and fast email delivery, typically within 2 to 24 hours of your order. Our 24-hour customer support service is here to address any inquiries or issues you may have, ensuring a seamless experience from purchase to product usage.
Money-Back Guarantee: We understand that investing in software is a significant decision. That's why CheckKeys.com offers a money-back guarantee on CorelCAD 2019. If you're not completely satisfied with your purchase, we'll refund your money—no questions asked. Your satisfaction is our top priority.
Limited-Time Offer: Now is the perfect time to harness the power of CorelCAD 2019. At CheckKeys.com, we're offering this incredible digital product at a discounted price that you won't want to miss. This limited-time offer allows you to access the full suite of CorelCAD 2019 features at an unbeatable value.
Don't Miss Out - Act Now:
The world of 2D and 3D modeling, drafting, and design is at your fingertips with CorelCAD 2019. Don't miss this opportunity to enhance your creative capabilities, streamline your design process, and impress your clients with stunning, professional-quality work.
Secure Your Copy Today:
Visit CheckKeys.com and secure your copy of CorelCAD 2019 for Windows now. Take advantage of this limited-time offer and unlock the true potential of your creative vision. Act now, and you'll be on your way to becoming a CAD powerhouse with CorelCAD 2019.
In conclusion, CorelCAD 2019 is your ticket to precision, power, and creativity in the world of 2D and 3D modeling and design. With its comprehensive feature set, intuitive interface, and unmatched compatibility, it's the go-to solution for professionals and enthusiasts alike. Combine this with the exceptional support and money-back guarantee offered by CheckKeys.com, and you have an unbeatable package that's hard to resist. Don't wait—seize this opportunity and elevate your design capabilities with CorelCAD 2019 today!