CorelDraw Graphics Suite X8 | Pre-Activated Version
Unlock Your Creative Potential with CorelDRAW Graphics Suite X8
Are you ready to take your creative projects to the next level? If so, you're in luck! CheckKeys.com is thrilled to offer you an incredible opportunity to revolutionize your design experience with CorelDRAW Graphics Suite X8. This digital powerhouse is your ticket to unleashing your artistic talents, and we're here to tell you why it's a must-have addition to your creative toolkit.
Unveiling CorelDRAW Graphics Suite X8
In a world where visuals speak louder than words, CorelDRAW Graphics Suite X8 stands tall as a trusted and industry-leading design software. Whether you're a professional graphic designer or an aspiring artist, this comprehensive suite is the key to unlocking your full creative potential.
Powerful Features at Your Fingertips
Let's dive into the incredible features that make CorelDRAW Graphics Suite X8 a game-changer:
CorelDRAW X8: Precision at Its Best. Get ready to experience precision like never before! CorelDRAW X8 offers an intuitive vector illustration toolset that allows you to create stunning graphics with ease. From logos to posters, brochures to web graphics, this software has got you covered.
Corel PHOTO-PAINT X8: Photo Editing Redefined. Enhance your photos like a pro with Corel PHOTO-PAINT X8. This powerful image editing software lets you retouch and optimize your pictures, ensuring they look flawless for both print and web.
Corel Font Manager X8: Your Font Arsenal: Font management made easy! With Corel Font Manager X8, you can organize and explore fonts to find the perfect typeface for your projects. Create a distinctive visual identity that sets you apart from the competition.
Corel PowerTRACE X8: Vectorization Simplified: Convert bitmap images into high-quality vector graphics effortlessly with Corel PowerTRACE X8. Say goodbye to pixelated images and hello to smooth, scalable graphics.
Corel CONNECT X8: Your Digital Library. Access your digital content at lightning speed with Corel CONNECT X8. Find the perfect image, clipart, or template from your local network or online resources to supercharge your creativity.
Corel CAPTURE X8: Capture and Annotate. Don't miss a single idea! Corel CAPTURE X8 allows you to capture screenshots and annotate them for easy communication and documentation.
Corel Website Creator: Web Design Simplified. Designing websites has never been more straightforward. With Corel Website Creator, you can create responsive web pages without any coding knowledge. It's perfect for freelancers, small businesses, and creative enthusiasts.
Compatibility and Multi-Monitor Support. CorelDRAW Graphics Suite X8 is designed to seamlessly integrate with other popular software applications, such as Adobe Illustrator and Photoshop. Plus, it supports multi-monitor setups, making your workspace even more efficient.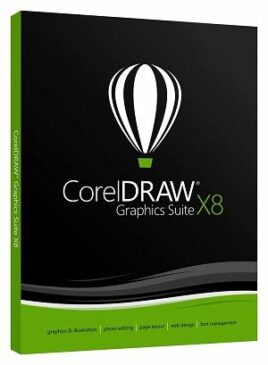 Why Choose CorelDRAW Graphics Suite X8?
Now that you know about the incredible features that CorelDRAW Graphics Suite X8 brings to the table, let's explore why this software should be a part of your creative journey:
Unmatched Versatility: CorelDRAW Graphics Suite X8 is an all-in-one solution for graphic design, photo editing, and web design. With a wide range of tools at your disposal, you can tackle any creative project, no matter the complexity.
Enhanced Productivity: Time is money, and CorelDRAW Graphics Suite X8 understands that. The software's intuitive interface and time-saving features help you work more efficiently, so you can focus on bringing your creative visions to life.
Professional Results: Whether you're a professional designer or a hobbyist, CorelDRAW Graphics Suite X8 empowers you to produce high-quality, professional-grade designs that will impress clients and colleagues alike.
Stay Ahead of the Curve: In the fast-paced world of design, staying up-to-date is crucial. CorelDRAW Graphics Suite X8 keeps you ahead of the curve with cutting-edge tools and technology that ensure your work remains fresh and relevant.
The Time to Act is Now
Are you still on the fence about whether to invest in CorelDRAW Graphics Suite X8? Well, there has never been a better time to make the leap! CheckKeys.com is offering an exclusive, limited-time discount that you won't want to miss. But act fast because this deal won't last forever.
Why Choose CheckKeys.com?
Before we wrap up, let's talk about why CheckKeys.com is the best place to purchase your CorelDRAW Graphics Suite X8:
Money-Back Guarantee: We stand by the authenticity and quality of our products. If for any reason you are not satisfied with your purchase, we offer a hassle-free money-back guarantee.
Genuine Product Key: When you buy from CheckKeys.com, you can trust that you'll receive a genuine product key. Say goodbye to worries about counterfeit software.
Fast Product Activation: Get started on your creative journey without delay. Our product activation process is quick and straightforward, so you can dive into your projects right away.
Fast Email Delivery: We understand that you're eager to start using CorelDRAW Graphics Suite X8. That's why we promise fast email delivery, with most orders processed within 2 to 24 hours.
24-Hour Customer Support: Need assistance or have questions about your purchase? Our dedicated customer support team is available 24/7 to assist you.
Don't Miss Out on This Opportunity
In the world of digital design, having the right tools at your disposal can make all the difference. CorelDRAW Graphics Suite X8 is the key to unlocking your creative potential, and CheckKeys.com is your trusted partner in acquiring this incredible software.
The clock is ticking, and this exclusive offer won't last forever. Don't let this opportunity slip through your fingers. Take action now and embark on a creative journey like no other with CorelDRAW Graphics Suite X8 from CheckKeys.com. Your masterpiece awaits!