Microsoft Exchange Server 2019 Standard License Key
Microsoft Exchange Server 2019 Standard License Key| Product Key
Unleash the Power of Business Communication with Microsoft Exchange Server 2019 Standard In today's fast-paced digital world, efficient and secure communication is the cornerstone of any successful business. To stay ahead of the competition and streamline your organization's messaging, collaboration, and data sharing processes, you need a robust email and messaging platform like Microsoft Exchange Server 2019 Standard. This powerful digital product, available exclusively at www.CheckKeys.com, is your ticket to enhancing productivity, security, and efficiency in your workplace. Read on to discover how this indispensable tool can revolutionize your business communication.
Seamlessly Connect and Collaborate
Email Management at Its Finest: Microsoft Exchange Server 2019 Standard takes your email communication to a whole new level. Say goodbye to the limitations of traditional email clients. With this cutting-edge software, you'll experience lightning-fast email delivery, whether you're sending important business documents or casual office chatter. It ensures that your messages are delivered promptly and reliably, reducing the risk of missed opportunities and communication breakdowns.
Collaborate with Ease: Collaboration is the key to productivity in any organization. Exchange Server 2019 Standard makes it a breeze. With features like shared calendars, contacts, and tasks, your team can stay organized and work together seamlessly. The powerful collaboration tools ensure that everyone is on the same page, allowing for efficient project management and streamlined workflows.
Secure Your Communication: In an age where cyber threats are rampant, security is paramount. Microsoft Exchange Server 2019 Standard incorporates advanced security measures to protect your email and data. It offers robust encryption, threat protection, and advanced anti-phishing filters to keep your sensitive information safe from prying eyes. Rest easy, knowing that your communication is shielded from cyber threats.
Anytime, Anywhere Access
Mobile Productivity: In today's mobile-centric world, it's essential to have access to your emails and data on the go. Exchange Server 2019 Standard ensures that you can stay connected wherever you are. With support for mobile devices and web-based access, you can check your emails, schedule appointments, and collaborate with your team even when you're out of the office. This level of flexibility is invaluable for modern businesses.
Outlook Integration: Microsoft Exchange Server 2019 Standard seamlessly integrates with Microsoft Outlook, the industry-standard email client. This integration enhances your email experience, providing you with a familiar interface and a host of additional features. Enjoy the convenience of managing your emails, calendars, and contacts all in one place, with the reliability and performance that only Exchange Server can deliver.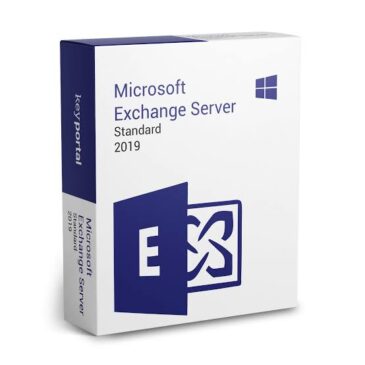 A Robust, Scalable Solution
Scalability: Businesses grow, and so do their email needs. Exchange Server 2019 Standard is designed with scalability in mind. Whether you're a small business or a large enterprise, this product can scale to meet your requirements. Start with what you need and expand as your organization grows, without compromising on performance or security.
Improved Performance: One of the standout features of Exchange Server 2019 Standard is its improved performance. It's faster and more efficient than its predecessors, ensuring that your email and collaboration services run smoothly, even under heavy loads. Say goodbye to frustrating slowdowns and hello to a seamless user experience.
Why Choose www.CheckKeys.com
At www.CheckKeys.com, we understand the urgency of your business needs. That's why we offer this exceptional digital product at a price that can't be beaten. While we can't reveal the price here, rest assured that our discounts are substantial, making this investment in your business an even more compelling proposition.
Money-Back Guarantee: We believe in the quality and authenticity of our products. That's why we back them up with a money-back guarantee. If, for any reason, you're not satisfied with your purchase, we'll refund your money, no questions asked. Your satisfaction is our priority.
Genuine Product Key: When you purchase Microsoft Exchange Server 2019 Standard from www.CheckKeys.com, you'll receive a genuine product key that unlocks all the features and capabilities of this powerful software. Beware of counterfeit keys that can compromise your security and functionality; we only offer the real deal.
Fast Product Activation: Time is of the essence in the business world. With our fast product activation process, you can start using Exchange Server 2019 Standard almost immediately after your purchase. Say goodbye to long wait times and hello to enhanced productivity.
Fast Email Delivery: We understand that your business can't afford to wait. That's why we guarantee fast email delivery of all orders placed with us. You'll receive your product key and download instructions within 2 to 24 hours, ensuring minimal downtime for your organization.
24-Hour Customer Support: Need assistance or have questions? Our dedicated customer support team is available 24/7 to provide you with expert guidance and solutions. We're here to ensure that your experience with us is smooth and hassle-free.
Act Now, Transform Your Business
In conclusion, Microsoft Exchange Server 2019 Standard is the digital product your business needs to thrive in today's competitive landscape. With its robust features, enhanced security, and seamless integration with Microsoft Outlook, it's the ultimate solution for efficient and secure communication and collaboration. And when you purchase it from www.CheckKeys.com, you not only get a genuine product key but also enjoy a money-back guarantee, fast product activation, fast email delivery, and round-the-clock customer support.
Don't miss out on this opportunity to supercharge your business communication. The time to act is now. Visit www.CheckKeys.com and secure your copy of Microsoft Exchange Server 2019 Standard at an unbeatable discount. Your business deserves the best, and with Exchange Server 2019 Standard, you'll be well on your way to achieving new heights of productivity and success.