Microsoft Office 365 Enterprise E3 Account
Microsoft Office 365 Enterprise E3 Account for Mac and Windows
Microsoft Office 365 Enterprise E3 Account for Mac and Windows - Elevate Your Productivity Today!
Are you ready to revolutionize the way you work, collaborate, and achieve your business goals? Look no further than the Microsoft Office 365 Enterprise E3 Account for Mac and Windows, exclusively available at CheckKeys.com! This game-changing digital product is your key to unlocking a world of possibilities in the realms of productivity and collaboration. Get ready to experience a digital transformation like never before, and seize this opportunity with urgency while enjoying a massive discount!
At CheckKeys.com, we understand the importance of empowering individuals and businesses with cutting-edge digital tools. That's why we're thrilled to offer the Microsoft Office 365 Enterprise E3 Account for Mac and Windows, a comprehensive suite of applications designed to streamline your workflow, boost productivity, and foster seamless collaboration among your teams.
Transform Your Work Environment
Power-Packed Applications
With Microsoft Office 365 Enterprise E3, you gain access to a suite of powerful applications that are essential for today's dynamic work environment. These include:
Microsoft Word: Craft documents like a pro with advanced editing tools and templates.
Microsoft Excel: Crunch numbers, analyze data, and visualize insights with ease.
Microsoft PowerPoint: Create captivating presentations to engage your audience and deliver impactful messages.
Microsoft Outlook: Manage your emails, calendars, and contacts efficiently.
Microsoft OneNote: Organize your thoughts and ideas with digital notebooks that sync across devices.
Microsoft Teams: Foster collaboration and communication among your teams with chat, video conferencing, and file sharing.
Microsoft SharePoint: Centralize your team's documents and streamline content management.
Microsoft OneDrive: Safeguard your files in the cloud and access them from anywhere.
Microsoft Planner: Plan and manage projects effortlessly with intuitive task boards.
Microsoft Power Automate: Automate repetitive tasks and workflows for enhanced efficiency.
Cross-Platform Compatibility
Whether you're a Mac enthusiast or a Windows aficionado, Microsoft Office 365 Enterprise E3 ensures compatibility across both platforms. Seamlessly transition between your devices without missing a beat. This versatility ensures that your work is never limited by your choice of operating system.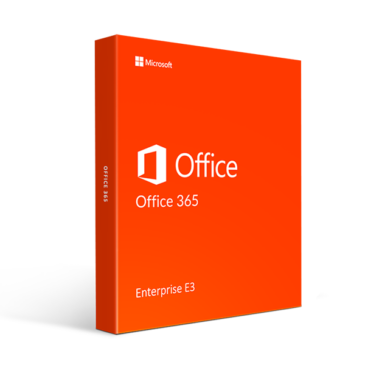 Unleash Your Productivity Potential
Cloud-Powered Collaboration
Say goodbye to geographical constraints and embrace the power of cloud collaboration. Microsoft Office 365 Enterprise E3 allows your team to work together in real-time, regardless of their physical location. Collaborate on documents, spreadsheets, and presentations in real-time, making teamwork more efficient than ever.
Enhanced Security and Compliance
Your data's security is paramount. Microsoft Office 365 Enterprise E3 provides enterprise-level security features, including data loss prevention (DLP), threat protection, and identity management. Rest assured that your sensitive information is shielded from threats and vulnerabilities.
1TB of Cloud Storage
Never worry about running out of storage space again. With 1TB of OneDrive cloud storage per user, you can securely store all your important files, documents, and media files in the cloud, accessible from anywhere, at any time.
Always Up-to-Date
Forget about tedious software updates. With Office 365, you'll always have access to the latest versions of your favorite applications, ensuring you benefit from the most recent features, enhancements, and security updates.
Experience the Urgency
Why wait to supercharge your productivity when you can do it right now? CheckKeys.com is offering the Microsoft Office 365 Enterprise E3 Account for Mac and Windows at an unbeatable discount! Act swiftly, as this limited-time offer won't last forever.
Our Promise to You
When you purchase the Microsoft Office 365 Enterprise E3 Account for Mac and Windows from CheckKeys.com, you're not just investing in software; you're investing in your success. We stand by our commitment to provide you with the best possible experience:
Money-Back Guarantee: Your satisfaction is our priority. If for any reason you're not completely satisfied with your purchase, we offer a hassle-free money-back guarantee. Simply contact our customer support within 30 days, and we'll process your refund promptly.
Genuine Product Key: Rest easy knowing that all our product keys are 100% genuine and authentic. Say goodbye to the worries of counterfeit software and embrace the power of authenticity.
Fast Product Activation: Time is money, and we understand the urgency of getting started with your new Office 365 Enterprise E3 Account. Our streamlined activation process ensures you're up and running in no time, so you can focus on what truly matters.
Fast Email Delivery: We value your time, and that's why we aim to deliver your product key via email within 2 to 24 hours of your order confirmation. Get started with Office 365 Enterprise E3 quickly and efficiently.
24-Hour Customer Support: Questions or concerns? Our dedicated customer support team is available around the clock to assist you. We're here to ensure your experience with Microsoft Office 365 Enterprise E3 is seamless and stress-free.
Don't Miss Out!
In today's fast-paced business world, staying ahead of the curve is essential. Microsoft Office 365 Enterprise E3 for Mac and Windows is your ticket to enhanced productivity, collaboration, and success. The discounted offer from CheckKeys.com is your golden opportunity to access this powerhouse of tools and features.
Don't hesitate; take action today! Elevate your productivity, streamline your workflow, and enhance your collaboration efforts with Microsoft Office 365 Enterprise E3. Seize this limited-time offer and experience the transformation for yourself. Your journey towards success starts now, and CheckKeys.com is here to support you every step of the way.
Don't wait any longer; act now, and unlock your full potential with Microsoft Office 365 Enterprise E3 for Mac and Windows, available exclusively at CheckKeys.com!