Features of Microsoft Office Professional Plus 2019
Microsoft Office Professional Plus 2019 Activation Key| License Key
This is a 100% Money-Back Guarantee
Unleash Your Productivity Potential with Microsoft Office Professional Plus 2019
In the dynamic digital landscape of today, harnessing the power of cutting-edge software is not just a choice; it's a necessity. When it comes to productivity suites, there's one name that stands tall above the rest - Microsoft Office. And when you need the best of the best, Microsoft Office Professional Plus 2019 is the definitive choice. Whether you're a business professional, a student, or a creative mind, this digital powerhouse is here to revolutionize the way you work and create.
Why Microsoft Office Professional Plus 2019?
Before we dive into the exceptional features that make this product a game-changer, let's talk about why Microsoft Office Professional Plus 2019 is the must-have tool in your digital arsenal.
Unrivaled Compatibility and Integration: Microsoft Office has always been the gold standard when it comes to document creation and management. With Office Professional Plus 2019, you can seamlessly work across various platforms and devices. Whether you're using a Windows PC, a Mac, a tablet, or even a smartphone, this suite ensures that your files look perfect and stay accessible no matter where you are.
Power-Packed Performance: If you demand nothing but the best from your software, Office Professional Plus 2019 won't disappoint. It's designed to handle the most complex tasks with ease. From creating intricate spreadsheets in Excel to crafting visually stunning presentations in PowerPoint, you'll experience unparalleled performance every step of the way.
Enhanced Security and Compliance: In today's digital world, security is paramount. Microsoft understands this, and Office Professional Plus 2019 is fortified with advanced security features to protect your sensitive data. You can work confidently knowing that your documents are shielded from cyber threats, and compliance requirements are met effortlessly.
Streamlined Collaboration: Collaboration is key in any modern workspace. This edition of Microsoft Office takes collaboration to a whole new level. Real-time co-authoring in Word, Excel, and PowerPoint allows you and your team to work on documents simultaneously, making group projects a breeze. Share your work effortlessly through OneDrive and take advantage of SharePoint for robust team collaboration.
A Plethora of Premium Apps: This suite brings you an array of premium apps, each tailored to meet specific needs:
Word 2019: The quintessential word processing tool, Word 2019 offers powerful features for creating professional documents, from letters and reports to novels and dissertations.
Excel 2019: Dive into data analysis with Excel 2019. From basic calculations to complex data modeling, Excel empowers you to make data-driven decisions.
PowerPoint 2019: Craft captivating presentations that leave a lasting impression. PowerPoint 2019 offers an array of design tools and animations to bring your ideas to life.
Outlook 2019: Take control of your email, calendar, and contacts with Outlook 2019. Stay organized and connected, whether you're at the office or on the go.
Access 2019: Manage your data like a pro with Access 2019. Create custom databases and applications tailored to your unique needs.
Publisher 2019: Design stunning publications with ease. Publisher 2019 is your go-to tool for creating brochures, newsletters, and more.

Time-Saving Features: Office Professional Plus 2019 is loaded with time-saving features. From the intuitive Ribbon interface to the robust search capabilities, it's designed to make your workflow smoother and more efficient. The Tell Me feature in Word, Excel, and PowerPoint helps you find the tools you need quickly, so you can get back to being productive.
Regular Updates and Support: When you invest in Microsoft Office, you're not just buying a product; you're gaining access to a world of continuous improvement and support. Microsoft regularly releases updates, ensuring that your software stays current and secure. Plus, with CheckKeys.com, you'll have access to 24-hour customer support, so any questions or issues you encounter will be swiftly resolved.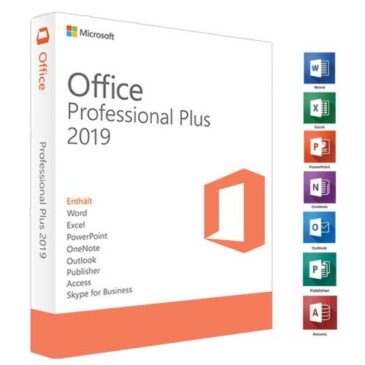 The Time to Act is Now!
Now that you've seen the impressive lineup of features in Microsoft Office Professional Plus 2019, it's clear that this suite is the pinnacle of productivity software. But here's the kicker: www.CheckKeys.com is offering this incredible product at an unbeatable discount. This is your opportunity to supercharge your work and creativity without breaking the bank.
But don't wait! The clock is ticking, and this offer won't last forever. We're talking about a digital product that can transform the way you work and create, and it's available to you right now. Imagine the possibilities that await when you have the full might of Microsoft Office Professional Plus 2019 at your fingertips.
Why Choose www.CheckKeys.com?
We know you have choices when it comes to purchasing digital products, but www.CheckKeys.com stands out for several reasons:
Money-Back Guarantee: We're confident in the quality of our products, which is why we offer a money-back guarantee. If you're not satisfied with your purchase, we'll make it right.
Genuine Product Keys: When you buy from www.CheckKeys.com, you're getting genuine, legitimate product keys. Say goodbye to the worries of counterfeit or unreliable software.
Fast Product Activation: We understand that time is of the essence. That's why our product activation process is quick and hassle-free, allowing you to start using your software without delay.
Fast Email Delivery: Need your product key right away? No problem! www.CheckKeys.com delivers your product key via email within 2 to 24 hours of your order, ensuring minimal downtime.
24-Hour Customer Support: We're here for you around the clock. If you have any questions or encounter any issues, our dedicated customer support team is ready to assist you.
Don't Miss Out on the Opportunity of a Lifetime!
In today's fast-paced world, staying ahead of the curve is essential. Microsoft Office Professional Plus 2019 is your ticket to enhanced productivity, seamless collaboration, and unmatched performance. And with www.CheckKeys.com, you're not just buying software; you're investing in a brighter, more efficient future.
The time to act is now. Don't let this incredible discount slip through your fingers. Upgrade your digital toolkit, unlock your potential, and experience the magic of Microsoft Office Professional Plus 2019 today! Remember, greatness awaits those who seize the moment. Order now and embark on a journey to productivity like never before.