Microsoft Visual Studio 2022 Professional Product Key
Microsoft Visual Studio 2022 Professional Product Key
Unleash Your Coding Potential with Microsoft Visual Studio 2022 Professional
In the ever-evolving world of software development, having the right tools at your disposal can be the difference between success and mediocrity. Microsoft Visual Studio 2022 Professional is the ultimate solution for developers seeking to unlock their full coding potential. With a plethora of cutting-edge features and capabilities, this digital product is your ticket to efficient, effective, and exhilarating development experiences.
The Powerhouse of Development Environments
Microsoft Visual Studio 2022 Professional is not just another software development tool; it's the powerhouse that every coder dreams of. Designed to cater to the needs of professional developers, this product is a game-changer in every sense. Let's delve into the features that make it an indispensable asset for any serious programmer.
Lightning-Fast Performance: Time is of the essence in the software development world. Visual Studio 2022 Professional boasts remarkable speed and responsiveness, ensuring that you won't be wasting precious moments waiting for your code to compile or projects to load. With this tool at your disposal, you can focus on what truly matters – crafting exceptional software.
Intelligent Code Suggestions: Say goodbye to endless hours spent searching for the right code snippets. Visual Studio 2022 Professional incorporates intelligent code suggestions that not only speed up your coding process but also help you write cleaner, more efficient code. It's like having an experienced mentor by your side, guiding you towards perfection.
Enhanced Collaboration: Collaboration is key in today's interconnected world, and Visual Studio 2022 Professional recognizes that. Its collaboration features enable seamless teamwork, whether you're working with a colleague in the same office or a partner on the other side of the globe. Real-time code sharing, peer reviews, and integrated communication tools streamline your collaborative efforts.
Multi-Platform Development: Gone are the days of developing for a single platform. With this software, you can target multiple platforms, including Windows, Android, iOS, and more. Whether you're building a desktop application, a web service, or a mobile app, Visual Studio 2022 Professional has you covered.
Advanced Debugging: De ugging is an integral part of the development process, and this product takes it to the next level. Its advanced debugging capabilities allow you to pinpoint and resolve issues with ease. Spend less time chasing bugs and more time creating exceptional software.
Native Cloud Development: In an era dominated by cloud computing, Visual Studio 2022 Professional ensures that you're not left behind. It provides native cloud development tools that make it effortless to create, test, and deploy cloud-based applications. Harness the power of the cloud with confidence.
Built-In AI Assistance: Artificial intelligence is no longer a distant future; it's here to assist you today. With AI-powered code recommendations and code completion, your coding process becomes more efficient and accurate. Stay ahead of the curve with AI as your ally.
Extensive Language Support: Whether your coding journey involves C#, C++, Python, or any other language, Visual Studio 2022 Professional accommodates your needs. It offers extensive language support, ensuring that you can work in the environment you're most comfortable with.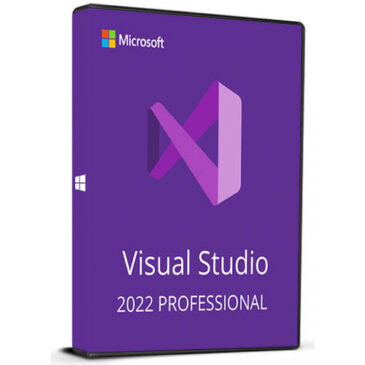 Why You Need to Act Now
The world of technology is relentless, and it rewards those who stay ahead of the curve. Microsoft Visual Studio 2022 Professional is your ticket to staying not just up-to-date but ahead of the competition. Here's why you need to act immediately:
Unbeatable Discount at CheckKeys.com: Our exclusive partnership with www.CheckKeys.com brings you Microsoft Visual Studio 2022 Professional at an unbeatable discount. We understand the value of this product, and we're committed to making it accessible to all serious developers.
Money-Back Guarantee: We stand by the authenticity and quality of our product keys. In fact, we're so confident that you'll love Microsoft Visual Studio 2022 Professional that we offer a money-back guarantee. If you're not completely satisfied, we'll refund your purchase—no questions asked.
Genuine Product Key: Beware of counterfeit software keys that can jeopardize your work and security. www.CheckKeys.com provides only genuine product keys, ensuring that your software is legitimate and fully supported by Microsoft.
Fast Product Activation: Time is money, and we value your time. When you purchase Microsoft Visual Studio 2022 Professional from www.CheckKeys.com, you can expect lightning-fast product activation. Get started on your projects without delay.
Rapid Email Delivery: We understand that you're eager to get started with Visual Studio 2022 Professional. That's why we guarantee email delivery within 2 to 24 hours of all orders. Your digital product key will be in your inbox before you know it.
24-Hour Customer Support: At www.CheckKeys.com, we take customer satisfaction seriously. Our dedicated customer support team is available 24/7 to address any questions or concerns you may have. We're here to assist you every step of the way.
Don't Miss Out on the Future of Coding
In an era where innovation reigns supreme, don't let outdated tools hold you back. Microsoft Visual Studio 2022 Professional is your gateway to a world of limitless coding possibilities. With its lightning-fast performance, intelligent code suggestions, and advanced debugging capabilities, you'll code like never before.
The time to act is now. www.CheckKeys.com is offering an irresistible discount, a money-back guarantee, genuine product keys, fast product activation, rapid email delivery, and round-the-clock customer support. We've removed every barrier to getting started with Visual Studio 2022 Professional.
Don't miss out on this opportunity to elevate your coding game. Invest in your future as a developer, and unlock a world of coding potential with Microsoft Visual Studio 2022 Professional. Purchase today, and start building tomorrow's software innovations. Your coding journey awaits – seize it with Visual Studio 2022 Professional from www.CheckKeys.com.