Microsoft Windows Server 2012 R2 Standard
Unlock Boundless Possibilities with Microsoft Windows Server 2012 Standard R2
In a world driven by digital innovation and rapid technological advancements, having a robust and reliable server operating system is essential for businesses of all sizes. Microsoft Windows Server 2012 Standard R2 stands as a formidable choice, enabling you to harness the power of modern technology to propel your enterprise to new heights. At CheckKeys.com, we are thrilled to offer this remarkable digital product that has the potential to revolutionize your business operations. Read on to discover the exceptional features and benefits of Microsoft Windows Server 2012 Standard R2.
Seamlessness and Reliability
The cornerstone of any successful IT infrastructure is reliability, and Microsoft Windows Server 2012 Standard R2 takes this aspect to new heights. With its rock-solid stability, you can ensure that your critical business applications and services remain accessible 24/7, without any downtime that could disrupt your operations.
This server operating system is designed to handle even the most demanding workloads efficiently, providing you with a seamless and hassle-free experience. Whether you're managing a small business or a large enterprise, you can trust Windows Server 2012 R2 to keep your digital environment running smoothly.
Advanced Virtualization Capabilities
In today's dynamic business landscape, virtualization is no longer a luxury but a necessity. Windows Server 2012 Standard R2 delivers cutting-edge virtualization features, allowing you to make the most of your hardware investments. Hyper-V, the server virtualization platform in Windows Server, empowers you to create and manage virtual machines with ease.
You can consolidate your server workloads, reduce infrastructure costs, and enhance resource utilization, all while ensuring high availability and robust disaster recovery options. By leveraging these virtualization capabilities, you'll be better equipped to adapt to changing business needs swiftly.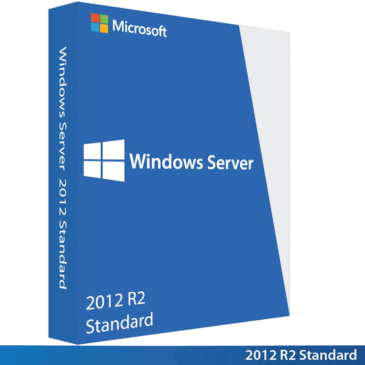 Enhanced Security
In an era marked by cyber threats and data breaches, security is paramount. Microsoft recognizes this and has equipped Windows Server 2012 Standard R2 with advanced security features to protect your digital assets. With features like BitLocker encryption, you can safeguard your data at rest, ensuring that it remains inaccessible to unauthorized individuals even if your hardware is compromised.
Moreover, Windows Server 2012 R2 includes enhanced access controls and authentication mechanisms, helping you control and monitor who has access to your resources. By implementing a robust security posture, you can fortify your organization against potential threats and vulnerabilities.
Simplified Management
Time is of the essence in today's fast-paced business environment. Windows Server 2012 Standard R2 streamlines server management, making it easier and more efficient for IT professionals to handle complex tasks. The intuitive Server Manager dashboard provides a unified view of server roles and features, simplifying the deployment and configuration of essential services.
Additionally, PowerShell automation capabilities allow you to script routine administrative tasks, saving you time and effort. With Microsoft's commitment to simplifying management, you can focus on strategic initiatives that drive your business forward.
Scalability
Business growth often entails expanding your IT infrastructure. Windows Server 2012 Standard R2 offers exceptional scalability, allowing you to adapt effortlessly to changing demands. You can add new servers or resources as needed, without disrupting your existing operations.
This scalability extends to storage as well. The Storage Spaces feature enables you to pool your storage resources, creating a flexible and cost-effective solution for managing your data. As your storage requirements evolve, Windows Server 2012 R2 adapts accordingly, ensuring that you have the capacity you need.
High-Performance Networking
In a world where connectivity is paramount, Windows Server 2012 Standard R2 offers a range of networking enhancements that boost performance and reliability. With features like Dynamic Host Configuration Protocol (DHCP) failover, you can ensure uninterrupted network connectivity for your users.
Furthermore, Windows Server 2012 R2 supports network virtualization, allowing you to isolate and segment your network traffic easily. Whether you're running a small office or a data center, these networking capabilities enhance your ability to deliver fast and reliable services to your users.
Robust Web and Application Platform
The modern business landscape is increasingly reliant on web and application services. Windows Server 2012 Standard R2 provides a powerful platform for hosting websites and applications, whether they are traditional on-premises solutions or cloud-based deployments.
With Internet Information Services (IIS) 8.5, you can host and manage websites with improved performance, security, and scalability. Additionally, Windows Server 2012 R2 supports the latest web standards and development frameworks, ensuring that your web and application services remain up-to-date and competitive.
Seamless Integration
Windows Server 2012 Standard R2 seamlessly integrates with other Microsoft products and services, creating a unified and coherent IT ecosystem. Whether you rely on Microsoft 365 for productivity or Azure for cloud services, this server operating system ensures a smooth and consistent experience.
Moreover, the Active Directory Domain Services feature allows you to centralize user management, simplifying access control and authentication across your organization. With Windows Server 2012 R2 at the core of your IT environment, you can achieve a higher level of integration and efficiency.
The Urgency of Embracing Windows Server 2012 Standard R2
In today's fast-paced and hyper-competitive business landscape, the need for a robust, reliable, and secure server operating system has never been more critical. Microsoft Windows Server 2012 Standard R2 is the solution you've been waiting for, and there has never been a better time to make it an integral part of your IT infrastructure.
At CheckKeys.com, we understand the urgency of staying ahead in the digital age. That's why we are offering this exceptional digital product at an unbelievable discount. But that's not all – when you purchase Microsoft Windows Server 2012 Standard R2 from us, you enjoy a range of benefits that set us apart from the competition.
Money-Back Guarantee: We stand by the authenticity and quality of our products. That's why we offer a money-back guarantee on all purchases. If you are not completely satisfied with your Microsoft Windows Server 2012 Standard R2 product key, we will refund your purchase price, no questions asked. Your satisfaction is our top priority.
Genuine Product Key: When you buy from CheckKeys.com, you can trust that you are receiving a genuine and legitimate product key. We understand the importance of authenticity, and we ensure that every product we sell is sourced directly from Microsoft. Say goodbye to counterfeit keys and enjoy peace of mind with your purchase.
Fast Product Activation: Time is money, and we value your time. That's why we provide a streamlined and hassle-free activation process. With our Microsoft Windows Server 2012 Standard R2 product, you can expect swift activation, allowing you to get your server up and running without delay. Your business operations won't miss a beat.
Fast Email Delivery: At CheckKeys.com, we recognize the importance of efficiency. That's why we guarantee fast email delivery of all orders. Upon completing your purchase, you can expect to receive your Microsoft Windows Server 2012 Standard R2 product key within 2 to 24 hours. We know that you need your resources promptly, and we are committed to delivering them to you without delay.
24-Hour Customer Support: Your satisfaction and success are our top priorities, and we are here to support you around the clock. If you have any questions, concerns, or need assistance with your purchase or activation, our dedicated customer support team is available 24/7 to provide prompt and helpful assistance.
You are never alone