Norton Antivirus Symantec Security Deluxe
Norton Antivirus Symantec Security Deluxe 5 Devices| 1 Year
Norton Antivirus Symantec Security Deluxe 5 PCs | 1 Year - Unleash the Power of Ultimate Protection
In today's digital age, where the online world is an integral part of our daily lives, safeguarding your digital assets is paramount. Malware, viruses, and cyber threats are lurking around every corner of the internet, ready to exploit any vulnerability they can find. This is where the Norton Antivirus Symantec Security Deluxe 5 PCs | 1 Year steps in as your digital guardian, providing comprehensive protection for your devices and data. At www.CheckKeys.com, we understand the urgency of securing your digital life, and that's why we're offering this incredible product at an unbeatable discount.
Why Norton Antivirus Symantec Security Deluxe 5 PCs | 1 Year?
In this product description, we will delve into the impressive features of Norton Antivirus Symantec Security Deluxe to help you realize why this is an essential investment for your digital security.
Multi-Device Protection: Imagine having one solution to protect all your devices. Norton Antivirus Symantec Security Deluxe extends its robust shield to cover up to 5 PCs for a whole year. Whether it's your home computer, work laptop, or your kids' devices, you can rest easy knowing that Norton has got you covered.
Real-Time Threat Protection: Norton's cutting-edge technology employs real-time threat detection to keep your devices safe from the latest malware, viruses, and online threats. It actively scans and identifies potential dangers, neutralizing them before they can wreak havoc on your system. With Norton by your side, you can browse, shop, and work online without fear.
Secure VPN: Privacy is a precious commodity in the digital age. Norton Antivirus Symantec Security Deluxe includes a Secure VPN that encrypts your internet connection, making your online activities anonymous. This feature is invaluable when accessing public Wi-Fi networks, protecting your sensitive data from prying eyes.
Smart Firewall: With Norton's Smart Firewall, you gain an additional layer of protection against cyberattacks. It monitors incoming and outgoing traffic, ensuring that no unauthorized access or malicious data can breach your system. Your digital fortress just got even stronger.
Dark Web Monitoring: Criminals often sell stolen personal information on the dark web. Norton's Dark Web Monitoring scans the dark web for any traces of your personal data, providing you with timely alerts if your information is detected. This proactive approach helps you take immediate action in case your data is compromised.
Password Manager: Are you tired of juggling multiple passwords for various accounts? Norton's Password Manager stores and manages your passwords securely. You only need to remember one master password while enjoying easy access to all your accounts. Say goodbye to the hassle of forgotten passwords.
Parental Control: Keeping your children safe online is crucial. Norton Antivirus Symantec Security Deluxe includes robust parental control features that enable you to monitor your kids' online activities, block inappropriate content, and set screen time limits. It's your digital parenting assistant.
Cloud Backup: Data loss can be devastating. Norton's cloud backup feature ensures that your important files are securely stored in the cloud. In case of a system crash or ransomware attack, you can restore your data hassle-free, knowing it's always safe and accessible.
Award-Winning Protection: Norton has a rich history of earning prestigious awards and accolades for its exceptional security solutions. With Norton Antivirus Symantec Security Deluxe, you're putting your trust in a brand that consistently delivers top-tier protection.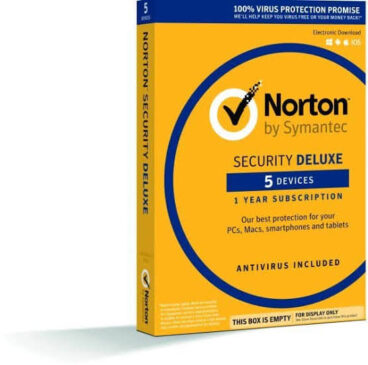 Why Choose www.CheckKeys.com?
At www.CheckKeys.com, we understand the importance of authenticity, speed, and customer satisfaction. We go the extra mile to ensure that you have a seamless experience when purchasing Norton Antivirus Symantec Security Deluxe 5 PCs | 1 Year.
Money-Back Guarantee: We believe in the quality of our products, and that's why we offer a money-back guarantee. If you're not satisfied with your purchase, we'll refund your money, no questions asked. Your satisfaction is our priority.
Genuine Product Key: When you purchase Norton Antivirus Symantec Security Deluxe from www.CheckKeys.com, you can trust that you're receiving a genuine product key. We source our keys directly from authorized distributors, ensuring you have a legitimate and fully functional product.
Fast Product Activation: We understand that time is of the essence when it comes to security. That's why we provide quick and easy product activation instructions so you can start protecting your devices without delay.
Fast Email Delivery: Once you place your order, you won't be left waiting. Our fast email delivery ensures that you'll receive your product key and activation instructions within 2 to 24 hours of your purchase, depending on your location and order processing.
24-Hour Customer Support: Have questions or need assistance? Our dedicated customer support team is available 24/7 to address your concerns and provide guidance. Your peace of mind is our commitment.
Act Now and Secure Your Digital Life!
In today's interconnected world, the risks to your digital security are real and ever-present. Don't wait until it's too late to protect your devices, data, and privacy. With Norton Antivirus Symantec Security Deluxe 5 PCs | 1 Year from www.CheckKeys.com, you have the ultimate defense against online threats.
The discount we're offering is an opportunity you can't afford to miss. Invest in your digital security today, and enjoy the peace of mind that comes with knowing your devices and data are protected by one of the most trusted names in cybersecurity.
Remember, the digital landscape is constantly evolving, and cyber threats are becoming more sophisticated. It's time to take action and secure your digital life. Trust www.CheckKeys.com to deliver genuine Norton Antivirus Symantec Security Deluxe 5 PCs | 1 Year with unmatched speed, reliability, and customer support. Your digital safety is our priority, and we're here to help you every step of the way. Don't wait - act now and fortify your defenses with Norton Antivirus Symantec Security Deluxe.