Stellar Data Recovery for iPhone, Windows & Mac
Stellar Data Recovery for iPhone, Windows & Mac | Fast Delivery
Stellar Data Recovery for iPhone, Windows & Mac: Your Ultimate Solution for Data Loss Woes
In today's digital age, our lives are intertwined with technology, making our devices repositories of precious memories, important documents, and crucial information. Whether you're an iPhone enthusiast, a Windows aficionado, or a dedicated Mac user, the fear of losing your data is a constant concern. That's where Stellar Data Recovery for iPhone, Windows & Mac swoops in as your digital savior, and www.CheckKeys.com is here to offer you this invaluable tool. Don't miss out on this opportunity to safeguard your data with a limited-time, irresistible offer.
Unparalleled Data Recovery for iPhone, Windows & Mac
Data loss is a nightmare that can strike when you least expect it. It could be a sudden system crash, accidental deletion, virus attack, or a faulty update. In such moments of crisis, Stellar Data Recovery emerges as the beacon of hope. Let's delve into its remarkable features, which make it an indispensable tool for iPhone, Windows, and Mac users.
Effortless Data Recovery for iPhone: Your iPhone holds your cherished photos, videos, messages, and contacts. Losing them is not an option. Stellar Data Recovery for iPhone ensures you can effortlessly retrieve lost or deleted data with its user-friendly interface. Here's what makes it stand out:
Comprehensive Recovery: This powerful tool can recover lost data from a variety of scenarios, including accidental deletion, iOS upgrades, water damage, and more.
Preview and Selective Recovery: You have the power to preview recoverable data and choose what you want to restore, saving time and space.
Encrypted Backup Support: Stellar works seamlessly with encrypted iTunes backups, ensuring your data's safety.
Wide Compatibility: It supports a wide range of iPhone models and iOS versions, ensuring you're covered no matter which device you have.
Robust Data Recovery for Windows: Windows users, data loss on your PC can be catastrophic. Stellar Data Recovery for Windows provides a lifeline to your lost or deleted files with the following features:
Deep Scan and Quick Scan: The tool performs both deep and quick scans, ensuring it can recover data even from formatted or corrupted drives.
Email Recovery: Stellar can recover lost or deleted emails from popular email clients like Outlook, Thunderbird, and more.
Customized Recovery: You can specify file types to recover or use pre-defined filters to find specific data faster.
RAW Recovery: It can even recover data from severely damaged or corrupted drives.
Comprehensive Data Recovery for Mac: Mac users, fear not! Stellar Data Recovery for Mac is here to restore your lost data with the following features:
Time Machine Backup Recovery: Stellar can recover data from Time Machine backups, ensuring you can restore your Mac to its previous state.
Optical Media Recovery: Don't lose hope if you've accidentally deleted files from CDs, DVDs, or Blu-ray discs. Stellar can recover data from these optical media.
Bootable Recovery: In case your Mac won't boot, Stellar provides a bootable recovery option to retrieve your important files.
RAW Recovery: Just like the Windows version, Stellar for Mac can recover data from severely damaged drives.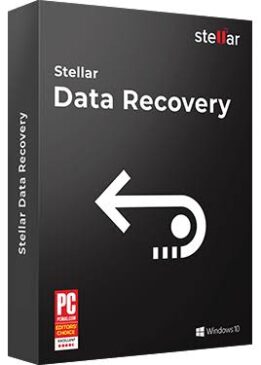 The Urgent Need to Secure Your Data:
Data loss can happen at any moment, and the consequences can be dire. That's why you need to act now. With Stellar Data Recovery for iPhone, Windows & Mac, you're not just purchasing a tool; you're investing in peace of mind. Imagine being able to retrieve your lost photos, videos, documents, and memories with just a few clicks. It's not just a luxury; it's a necessity.
And www.CheckKeys.com is offering you an incredible deal, but it won't last forever. You can secure your copy today and enjoy:
Money-Back Guarantee: We stand by the quality of our products, and that's why we offer a money-back guarantee. If Stellar Data Recovery doesn't meet your expectations, we'll refund your purchase, no questions asked.
Genuine Product Key: When you buy from www.CheckKeys.com, you can rest assured that you're receiving a genuine product key that ensures you get the full functionality of Stellar Data Recovery.
Fast Product Activation: You won't have to wait long to start recovering your lost data. Our fast product activation process ensures you can get to work immediately.
Fast Email Delivery: Within 2 to 24 hours of your order, you'll receive your product key via email. No delays, no hassle.
24-Hour Customer Support: Should you encounter any issues or have questions about Stellar Data Recovery, our dedicated customer support team is here for you 24/7.
Don't Wait – Act Now: Data loss doesn't give warnings or second chances. It strikes when you least expect it. Don't wait until it's too late. With Stellar Data Recovery for iPhone, Windows & Mac, you have the power to take control of your data's destiny.
Imagine recovering those precious family photos, that critical work presentation, or those heartfelt messages from loved ones. The value of your data is immeasurable, and losing it is not an option.
Now is the time to act. www.CheckKeys.com is offering you an exclusive opportunity to secure your digital lifeline at an unbeatable price. Don't miss out on this limited-time offer.
Remember, data recovery isn't just about convenience; it's about safeguarding your memories, your work, and your peace of mind. Act now and make the smart choice with Stellar Data Recovery for iPhone, Windows & Mac – because your data deserves nothing less than the best.