VMware ESXi vCenter Standard + vSphere Enterprise Plus Server
Unlock the Power of Virtualization with VMware ESXi vSphere 6/6.5/6.7 Enterprise Plus Are you ready to take your virtualization game to the next level? Look no further! VMware ESXi vSphere 6/6.5/6.7 Enterprise Plus is here to revolutionize your virtual infrastructure management. In this digital age, efficient virtualization solutions are a necessity, and VMware has been at the forefront of innovation for years. Now, you can experience the pinnacle of virtualization excellence with VMware ESXi vSphere 6/6.5/6.7 Enterprise Plus, available exclusively on www.CheckKeys.com.
Unleash the Potential of Your Data Center
Imagine a world where you have complete control over your data center, effortlessly managing resources, optimizing performance, and ensuring the highest level of security. VMware ESXi vSphere 6/6.5/6.7 Enterprise Plus makes this dream a reality. Let's dive into the remarkable features that make this product a game-changer.
Seamless Virtualization
With VMware ESXi vSphere, you can create, deploy, and manage virtual machines with unparalleled ease. Whether you're a seasoned IT professional or just starting on your virtualization journey, the user-friendly interface and intuitive controls ensure that you can harness the power of virtualization without breaking a sweat. Say goodbye to the complexities of traditional IT management and embrace a future where virtualization is a breeze.
Enterprise-Grade Performance
The Enterprise Plus edition takes performance to a whole new level. It supports unlimited CPUs, providing your infrastructure with the processing power it needs to handle even the most demanding workloads. Whether you're running multiple applications, managing extensive databases, or powering an entire network, VMware ESXi vSphere ensures optimal performance without compromise.
Robust Resource Management
Efficient resource management is at the core of effective virtualization, and VMware ESXi vSphere excels in this regard. You can allocate and distribute resources dynamically, ensuring that critical applications always receive the resources they need to perform at their best. Say goodbye to resource bottlenecks and hello to uninterrupted productivity.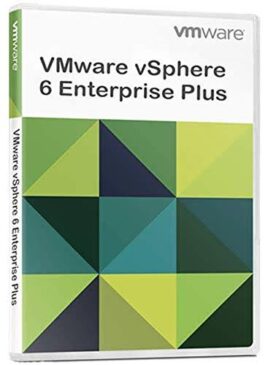 Unmatched Security
In today's digital landscape, security is non-negotiablee. VMware ESXi vSphere 6/6.5/6.7 Enterprise Plus takes security seriously. With features like vSphere AppDefense and enhanced vMotion encryption, your virtual infrastructure is safeguarded against threats, providing you with peace of mind and reducing the risk of data breaches.
Simplified Patching and Updates
Keeping your virtual environment up to date is crucial for security and performance. VMware makes this process a breeze with its automated patching and update management. Say goodbye to the headache of manual updates and enjoy a seamless, secure, and hassle-free experience.
vCenter Integration
Managing multiple ESXi hosts can be challenging, but not with vCenter. VMware ESXi vSphere Enterprise Plus includes vCenter Server, which allows you to centralize and streamline your management tasks. From a single interface, you can control and monitor your entire virtual infrastructure, making administration more efficient than ever before.
High Availability
Downtime can be costly, both in terms of finances and reputation. VMware ESXi vSphere Enterprise Plus offers high availability features that minimize downtime and maximize uptime. With features like vSphere Fault Tolerance and vSphere HA, your virtual machines are protected from hardware failures, ensuring continuous operation for your critical applications.
Scalability
As your business grows, so should your virtual infrastructure. VMware ESXi vSphere Enterprise Plus is designed with scalability in mind. You can easily add and manage new hosts and virtual machines to meet the evolving needs of your organization. No matter how large or complex your infrastructure becomes, VMware has you covered.
Why Choose www.CheckKeys.com?
Now that you're aware of the incredible features offered by VMware ESXi vSphere 6/6.5/6.7 Enterprise Plus, let's discuss why you should make www.CheckKeys.com your preferred choice for purchasing this exceptional product.
Unbeatable Discounts
At www.CheckKeys.com, we understand the value of your hard-earned money. That's why we offer VMware ESXi vSphere 6/6.5/6.7 Enterprise Plus at an irresistible discount. This is your opportunity to elevate your virtual infrastructure without breaking the bank. But remember, this offer won't last forever – act now and secure this amazing deal before it's gone!
Money-Back Guarantee
We have absolute confidence in the authenticity and quality of our products. That's why we proudly offer a money-back guarantee. If, for any reason, you're not satisfied with your purchase, we'll refund your money, no questions asked. With www.CheckKeys.com, your satisfaction is our top priority.
Genuine Product Keys
When you purchase VMware ESXi vSphere 6/6.5/6.7 Enterprise Plus from www.CheckKeys.com, you can rest assured that you're receiving genuine product keys. Counterfeit or unauthorized keys can lead to a world of trouble, including security risks and legal consequences. Don't compromise on authenticity – trust www.CheckKeys.com for the real deal.
Lightning-Fast Activation
Time is of the essence, especially in the fast-paced world of IT. With www.CheckKeys.com, you won't have to wait around for product activation. Our activation process is lightning-fast, ensuring that you can get to work without delay. Your time is valuable, and we respect that.
Swift Email Delivery
We understand that you're eager to get started with VMware ESXi vSphere 6/6.5/6.7 Enterprise Plus. That's why we promise swift email delivery of all orders. In most cases, you'll receive your product key within 2 to 24 hours of placing your order. We're committed to getting you up and running as quickly as possible.
24-Hour Customer Support
Have questions or need assistance? Our dedicated customer support team is available 24/7 to assist you. Whether you're facing technical challenges or simply need guidance, we're here to provide expert assistance whenever you need it. Your satisfaction is our priority, and we're just a message away.
Don't Miss Out – Act Now!
In the world of virtualization, opportunities like this don't come around often. VMware ESXi vSphere 6/6.5/6.7 Enterprise Plus is the key to unlocking the full potential of your data center. With its unmatched features, seamless management, and unbeatable discounts at www.CheckKeys.com, there's no reason to hesitate.
The clock is ticking, and this incredible offer won't last forever. Take action now, secure your VMware ESXi vSphere 6/6.5/6.7 Enterprise Plus, and embark on a journey of virtualization excellence. Elevate your data center, enhance security, and optimize performance – all with the assurance of genuine product keys, swift activation, and 24-hour customer support.
The future of virtualization is here, and it's waiting for you. Don't miss out – make www.CheckKeys.com your trusted partner in virtualization success!