Microsoft Exchange Server 2013 Standard License Key
Microsoft Exchange Server 2013 Standard License Key| Product Key
Unlock the Power of Seamless Communication with Microsoft Exchange Server 2013 Standard
In the ever-evolving landscape of business communication, one solution stands tall, offering unparalleled efficiency, security, and collaboration possibilities. Introducing Microsoft Exchange Server 2013 Standard - the heartbeat of modern communication, now available at an irresistible discount on www.CheckKeys.com. Don't miss out on this opportunity to elevate your business to new heights.
Why Microsoft Exchange Server 2013 Standard?
In today's fast-paced business environment, effective communication is the cornerstone of success. Microsoft Exchange Server 2013 Standard revolutionizes the way you connect, collaborate, and manage your communication infrastructure. Let's dive into its exceptional features that make it a must-have for your organization.
Seamlessly Integrated Email: Say goodbye to disjointed email services and embrace the harmony of a unified email platform. With Exchange Server 2013 Standard, you can integrate your emails, calendars, and contacts into one cohesive system. This means no more toggling between applications - everything you need is right at your fingertips.
Enhanced Security: The digital world is fraught with security challenges. Exchange Server 2013 Standard steps up to the plate with robust security features. It includes data loss prevention (DLP) capabilities, which help you safeguard sensitive information and prevent it from falling into the wrong hands. With the increasing threats to data security, this feature is invaluable.
Simplified Management: Managing your email infrastructure has never been easier. Exchange Server 2013 Standard streamlines administration tasks with a user-friendly interface. You'll spend less time on maintenance and more time on strategic initiatives. Plus, it supports role-based access control, ensuring that only authorized personnel can make critical changes.
Enhanced Collaboration: In today's interconnected world, collaboration is key to success. Exchange Server 2013 Standard is designed to foster collaboration among your team members. With features like shared calendars, group email, and document sharing, you'll see your team's productivity soar. Real-time collaboration has never been this effortless.
Mobile Productivity: Work doesn't stop when you leave the office. Exchange Server 2013 Standard recognizes the importance of mobile productivity. It offers seamless access to your email, calendar, and contacts on your mobile devices, ensuring that you're always in sync, whether you're in the office or on the go.
Disaster Recovery: Disasters can strike at any time, but your communication shouldn't suffer. Exchange Server 2013 Standard includes built-in disaster recovery capabilities to ensure your emails are always accessible. You can quickly recover from hardware failures, data corruption, or other unexpected events, minimizing downtime and ensuring business continuity.
Archiving and Compliance: Compliance with industry regulations is non-negotiable for many businesses. Exchange Server 2013 Standard simplifies compliance by offering built-in archiving and eDiscovery features. You can easily manage and discover email records, ensuring that you're always on the right side of the law.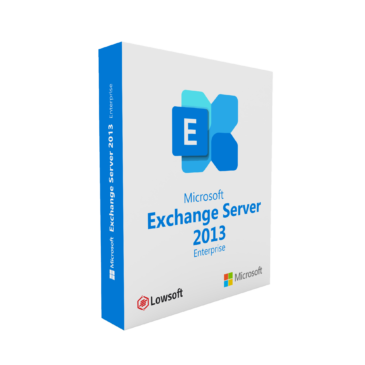 Why Buy from www.CheckKeys.com?
At www.CheckKeys.com, we understand the importance of authenticity, speed, and support when it comes to digital products. That's why we offer a range of benefits that ensure your experience is nothing short of exceptional:
Money-Back Guarantee: We are confident in the quality of our product. If, for any reason, you're not satisfied, we offer a money-back guarantee. Your satisfaction is our top priority.
Genuine Product Key: Rest easy knowing that you're getting a genuine Microsoft Exchange Server 2013 Standard product key. We source our keys from trusted suppliers to ensure authenticity.
Fast Product Activation: Time is of the essence in the business world. With www.CheckKeys.com, you can count on lightning-fast product activation, so you can start benefiting from Exchange Server 2013 Standard immediately.
Fast Email Delivery: We understand that waiting is not an option. That's why we guarantee fast email delivery of your product key, ensuring you can start using it within 2 to 24 hours of placing your order.
24-Hour Customer Support: Have questions or need assistance? Our dedicated customer support team is available 24/7 to provide the help you need. We're here to ensure your experience is smooth and hassle-free. Act Now, Before It's Too Late!
The world of business doesn't wait, and neither should you. Microsoft Exchange Server 2013 Standard is your ticket to streamlined communication, enhanced collaboration, and top-notch security. And with www.CheckKeys.com, you get all the benefits of a trusted digital product provider.
But here's the catch: this incredible product is available at an unbeatable discount that won't last forever. The time to act is now. Don't miss out on this opportunity to supercharge your business communication infrastructure.
In the digital age, staying ahead of the competition requires cutting-edge tools. Microsoft Exchange Server 2013 Standard is your secret weapon for efficient, secure, and collaborative communication. Get it today, only at www.CheckKeys.com, and take your business to the next level.
Conclusion:
In the world of business, effective communication is the foundation of success. Microsoft Exchange Server 2013 Standard offers a comprehensive solution to elevate your communication infrastructure. From seamless integration to enhanced security, this product has it all. When you choose www.CheckKeys.com as your provider, you gain access to a world of benefits, including a money-back guarantee, genuine product keys, fast activation, swift email delivery, and round-the-clock customer support.
Don't let this opportunity slip through your fingers. Act now and experience the transformation in your business communication with Microsoft Exchange Server 2013 Standard. Your competitors won't wait, and neither should you. Unlock the power of modern communication today