Microsoft Office 2019 for Mac Home and Business.    
Microsoft Office 2019 for Mac Home and Business - Your Ultimate Productivity Partner
In today's fast-paced digital world, having the right tools at your disposal can make all the difference in achieving success and staying ahead of the curve. That's where Microsoft Office 2019 for Mac Home and Business comes into play, and you won't find it at a better deal than at www.CheckKeys.com. This versatile digital product is your ticket to seamless productivity, and it's available at a discount that you simply can't afford to miss.
Are you ready to revolutionize the way you work and create? Read on to discover how Microsoft Office 2019 for Mac Home and Business can supercharge your productivity and help you accomplish more in less time.
Why Microsoft Office 2019 for Mac Home and Business?
Industry-Leading Applications
 Microsoft Office 2019 for Mac Home and Business includes a comprehensive suite of industry-standard applications, each tailored to meet your specific needs:
Microsoft Word: Create stunning documents, reports, and resumes with ease. The powerful editing tools, collaborative features, and a myriad of templates allow you to showcase your ideas beautifully.
Microsoft Excel: Analyze data, manage finances, and track business performance like a pro. Excel's advanced functions and impressive charts ensure that you have complete control over your data.
Microsoft PowerPoint: Make impactful presentations that leave a lasting impression. PowerPoint empowers you to design captivating slideshows with rich media, animations, and sophisticated transitions.
Microsoft Outlook: Stay organized and connected. Outlook simplifies email management, scheduling, and task tracking, ensuring that you never miss an important deadline or appointment.
Microsoft OneNote: Capture your thoughts and ideas effortlessly. OneNote's intuitive notebook interface lets you jot down notes, draw diagrams, and collaborate seamlessly with others.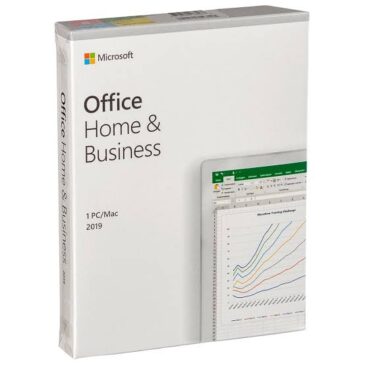 Boosted Productivity:
With Microsoft Office 2019 for Mac Home and Business, you'll experience a significant boost in productivity:
Streamlined Interface: The user-friendly interface ensures that you can access the tools and features you need quickly and efficiently, allowing you to focus on what matters most.
Seamless Collaboration: Work collaboratively in real-time with colleagues, clients, or collaborators, regardless of their location. Share, edit, and comment on documents simultaneously, increasing teamwork and productivity.
Enhanced Security: Protect your sensitive data with built-in security features, including data encryption, password protection, and secure sharing options. Keep your business-critical information safe from unauthorized access.
Cloud Integration: Seamlessly integrate with OneDrive, Microsoft's cloud storage solution. Access your documents from anywhere, on any device, ensuring that you're always in control of your work, even on the go.
Continuous Updates and Support
When you choose Microsoft Office 2019 for Mac Home and Business, you're not just investing in a product; you're investing in a commitment to excellence. Microsoft continually updates and enhances its software, ensuring that you stay on the cutting edge of technology. Plus, with www.CheckKeys.com's 24-hour customer support, you can rest easy knowing that assistance is always just a click away.
Regular Updates: Microsoft Office 2019 for Mac Home and Business receives regular updates that bring new features, improvements, and security patches. This ensures that your software remains efficient and reliable throughout its lifecycle.
24-Hour Customer Support: www.CheckKeys.com offers round-the-clock customer support to address any questions or concerns you may have. Our team is dedicated to ensuring that your experience is smooth and hassle-free.
Genuine Product Key: Worried about authenticity? Rest assured, we provide you with genuine product keys that are 100% legitimate and guaranteed to work.
Fast Product Activation: Experience the convenience of fast product activation. Get started with your Microsoft Office suite almost immediately after purchase.
Fast Email Delivery: www.CheckKeys.com prides itself on delivering your product key via email within 2 to 24 hours of your order. Say goodbye to long wait times and hello to increased productivity.
UnbeatableDiscount – Act Now! As a savvy consumer, you understand the importance of getting the best value for your money. www.CheckKeys.com offers an unbeatable discount on Microsoft Office 2019 for Mac Home and Business, but this offer won't last forever. We urge you to seize this opportunity and invest in your productivity at a fraction of the regular price.
Why wait? The digital landscape is constantly evolving, and the tools you use can make or break your success. Don't miss out on this exclusive offer from www.CheckKeys.com. With our money-back guarantee and genuine product key, you have nothing to lose and everything to gain. Upgrade your productivity, streamline your work processes, and stay ahead of the competition with Microsoft Office 2019 for Mac Home and Business.
In conclusion, Microsoft Office 2019 for Mac Home and Business is your ultimate partner in achieving unmatched productivity, collaboration, and security. At www.CheckKeys.com, we are committed to providing you with genuine product keys, fast email delivery, and round-the-clock customer support. With our limited-time discount, there has never been a better moment to invest in your success. Don't miss out on this opportunity to supercharge your productivity and transform the way you work. Act now, and experience the Microsoft Office advantage today!