Microsoft Office 365 Professional Plus 5 TB Cloud
Unlock Your Productivity Potential with Microsoft Office 365 Pro Plus Account | Win or Mac | Lifetime 5 TB Cloud
In the fast-paced digital landscape of today, being equipped with the right tools is crucial for success. Whether you're a student striving for academic excellence, a professional navigating the corporate world, or an entrepreneur charting your path to success, having access to a versatile and efficient productivity suite is non-negotiable. And that's where Microsoft Office 365 Pro Plus Account comes into play, offering you a comprehensive, feature-packed solution that caters to your every need.
Imagine having the power of Microsoft's renowned Office suite at your fingertips, accessible from anywhere, and paired with a colossal 5 TB cloud storage to keep your digital world organized and secure for a lifetime. It's not just a dream; it's a reality with our Microsoft Office 365 Pro Plus Account, available for both Windows and Mac users. Read on to discover how this digital gem can revolutionize your work and personal life.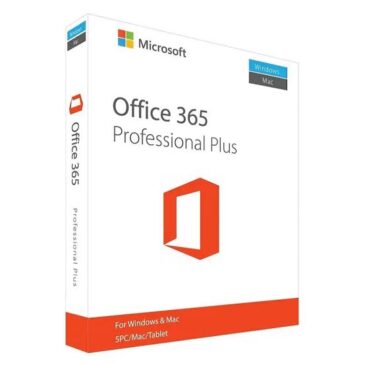 Microsoft Office 365 Pro Plus: Your All-in-One Solution: Microsoft Office 365 Pro Plus is not just a collection of software; it's a game-changer. With this comprehensive suite, you get access to the latest versions of all the essential Microsoft Office applications, including Word, Excel, PowerPoint, Outlook, OneNote, Access, Publisher, and Teams. Whether you're creating documents, crunching numbers, designing presentations, or communicating with colleagues, this suite has you covered. The Pro Plus version ensures you're always up-to-date with the latest features, security patches, and improvements, so you can work without interruption and take advantage of the most innovative tools at your disposal.
Lifetime Access: No More Subscription Worries: Unlike traditional subscription models, our Microsoft Office 365 Pro Plus Account provides you with lifetime access. That's right; you pay once, and you have these powerful tools at your fingertips for as long as you need them. Say goodbye to recurring subscription fees that burden your budget. With lifetime access, you not only save money but also eliminate the stress of having to renew your subscription every year. It's a wise investment in your productivity that will continue to pay off for years to come.
5 TB Cloud Storage: Your Digital Safe Haven: In today's data-driven world, storage is a precious commodity. Our Microsoft Office 365 Pro Plus Account comes with an astounding 5 TB of cloud storage. That's enough space to store a lifetime of documents, photos, videos, and more. Keep your files safe and accessible, whether you're at home, in the office, or on the go. No more worrying about running out of space or losing important files due to hardware failures. The 5 TB cloud storage ensures you have ample room to store and organize your digital life with ease.
Multi-Platform Flexibility: Works on Windows and Mac: Are you a Windows user or a Mac enthusiast? It doesn't matter because our Microsoft Office 365 Pro Plus Account is designed to cater to both platforms. Enjoy seamless compatibility and productivity regardless of your operating system. This flexibility allows you to work across devices and collaborate with colleagues or friends without any compatibility issues. Whether you prefer a Windows PC or a sleek Mac, you can harness the full power of Office 365.
Collaborative Superpowers: Microsoft Team's: In today's interconnected world, collaboration is key to success. Microsoft Teams, included in the Pro Plus suite, is your secret weapon for effective teamwork. Communicate with your colleagues through chat, video calls, and audio calls. Collaborate in real-time on documents, share files effortlessly, and keep everyone on the same page. With Teams, distance is no longer an obstacle to teamwork. Whether you're working from different cities or even continents, you can collaborate seamlessly and achieve your goals together.
Productivity on the Go: Mobile Apps: Life doesn't always happen at your desk. With Microsoft Office 365 Pro Plus, you can stay productive on the go. Access the full suite of Office applications on your mobile devices, be it a smartphone or tablet. Edit documents, review presentations, and respond to emails from anywhere, ensuring you never miss a beat. The mobile apps are optimized for touch screens, making it easy to navigate and work on smaller devices. Your productivity is no longer confined to your desk; it's wherever you are.
Enhanced Email Management: Outlook: Managing your emails can be a daunting task, especially when your inbox is flooded with messages. Outlook, a part of the Pro Plus suite, is here to make your email experience smoother and more efficient. Organize your emails, schedule appointments, set reminders, and stay on top of your communications effortlessly. The powerful features of Outlook help you prioritize your tasks and keep your email organized, ensuring you never miss an important message or deadline again.
Access to Exclusive Publisher and Access Applications: In addition to the core Office applications, our Microsoft Office 365 Pro Plus Account also includes Publisher and Access. These specialized applications open up a world of possibilities for both business and personal use. Publisher empowers you to create stunning, professional-looking publications and marketing materials, making it an invaluable tool for businesses, marketers, and creative professionals. Access, on the other hand, allows you to build custom, database-driven solutions to streamline your data management and reporting needs. It's a must-have for anyone working with complex data sets and databases.
Money-Back Guarantee: Risk-Free Investment: At www.CheckKeys.com, we stand behind the quality of our products. That's why we offer a money-back guarantee with every purchase of Microsoft Office 365 Pro Plus Account. If for any reason you are not satisfied with your purchase, we will refund your money, no questions asked. We are confident in the authenticity and functionality of our product keys, and we want you to be equally confident in your purchase. Buy with peace of mind, knowing that your investment is protected.
Fast Product Activation and Email Delivery: Time is of the essence, and we understand that you want to start using Microsoft Office 365 Pro Plus as soon as possible. That's why we offer fast product activation to get you up and running quickly. Additionally, our email delivery is swift, with most orders processed and delivered within 2 to 24 hours. We value your time, and we're committed to ensuring you can start reaping the benefits of your purchase without unnecessary delays.
24-Hour Customer Support: Your Questions, Our Answers: We believe in providing top-notch customer service because your satisfaction is our priority. Our 24-hour customer support team is here to assist you with any questions or issues you may encounter. Whether it's a technical problem or a simple query, we are just a message away, ready to provide you with the support you need. Don't let technical hurdles or uncertainties hold you back. Our customer support team is dedicated to ensuring you have a smooth and positive experience with Microsoft Office 365 Pro Plus.
Why the Urgency? Act Now!
In the world of digital productivity, time is money, and every moment counts. With Microsoft Office 365 Pro Plus Account, you have the opportunity to supercharge your productivity, enhance your collaboration, and secure your digital assets like never before.
But here's the catch: this incredible offer won't last forever. Act now to secure your lifetime access to Microsoft Office 365 Pro Plus with 5 TB of cloud storage. Take advantage of the huge discount provided by www.CheckKeys.com, and enjoy the peace of mind that comes with our money-back guarantee.
Don't let another day go by with subpar productivity tools and limited storage space. Make the smart choice today and invest in your future success with Microsoft Office 365 Pro Plus Account from www.CheckKeys.com. Unlock the full potential of your digital world and seize every opportunity that comes your way. Your future self will thank you for it.