Microsoft Project Professional 2016 Pro Product Key
Microsoft Project Professional 2016 Pro Key for 1 PC| Cd Keys
Unlock Your Project Management Potential with Microsoft Project Professional 2016 Pro Key for 1 PC!
In today's fast-paced business environment, effective project management is the key to success. Whether you're a seasoned project manager or just starting out, having the right tools can make all the difference. That's where Microsoft Project Professional 2016 Pro Key for 1 PC comes in, and you can get it exclusively at www.CheckKeys.com. This digital powerhouse is here to transform the way you plan, execute, and oversee your projects, and we're about to unveil why you need it right now.
Feature 1: Streamlined Project Planning
Microsoft Project Professional 2016 Pro Key equips you with powerful tools to streamline your project planning process. With its intuitive interface, you can easily create project plans, set timelines, allocate resources, and manage budgets. It offers a clear and organized view of your projects, making it easier than ever to stay on top of tasks and deadlines.
Imagine having the ability to effortlessly map out your project's scope, milestones, and dependencies. That's what this software offers – a comprehensive platform that lets you define your project's structure and objectives with precision. Plus, it enables you to identify potential risks and bottlenecks before they become major roadblocks.
Feature 2: Collaborative Work Environment
In today's interconnected world, collaboration is a necessity for project success. Microsoft Project Professional 2016 Pro Key enhances collaboration among team members by providing a centralized platform for sharing project information. You can assign tasks to team members, set priorities, and monitor progress in real-time. This ensures that everyone is on the same page, contributing their best to achieve project goals.
Moreover, the integration with Microsoft SharePoint and Skype for Business makes communication and document sharing a breeze. Say goodbye to endless email chains and missed messages – with this tool, you can have quick discussions and access project documents from a single, convenient location.
Feature 3: Resource Management Made Easy
Optimizing your resources is critical for project success, and Microsoft Project Professional 2016 Pro Key gives you the tools to do just that. You can efficiently allocate and manage resources, whether they are people, equipment, or materials, to ensure that your projects are well-staffed and well-equipped.
Imagine having the ability to see your resource allocation at a glance. With this software, you can easily identify over-allocated or underutilized resources and make adjustments as needed. This not only improves project efficiency but also helps you make informed decisions about resource allocation for future projects.
Feature 4: Robust Reporting and Dashboards
Effective project management requires accurate and timely reporting. Microsoft Project Professional 2016 Pro Key offers a range of reporting and dashboard options that allow you to track project progress, analyze data, and present insights to stakeholders. From Gantt charts to custom reports, you can choose the format that best suits your needs.
Imagine being able to generate comprehensive reports with just a few clicks. With this software, you can create visually appealing reports that provide valuable insights into project performance. Whether you need to update your team, inform stakeholders, or make data-driven decisions, Microsoft Project has you covered.
Feature 5: Seamless Integration with Office 365
One of the standout features of Microsoft Project Professional 2016 Pro Key is its seamless integration with Office 365. This means you can easily link your project plans with other Microsoft applications, such as Word, Excel, and Outlook. It's like having a complete ecosystem of productivity tools at your fingertips.
Imagine being able to import data from Excel spreadsheets directly into your project plan or sync project tasks with your Outlook calendar. This integration saves you time and eliminates the need to switch between different applications. It's the ultimate convenience for busy project managers.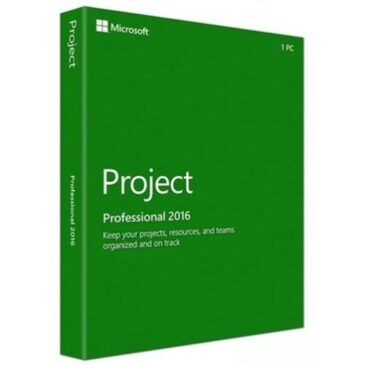 Feature 6: Enhanced Timeline View
Visualizing your project timeline is essential for effective planning and communication. Microsoft Project Professional 2016 Pro Key takes timeline visualization to the next level with its enhanced timeline view. You can create timelines with multiple layers, making it easy to highlight key milestones and dependencies.
Imagine having a dynamic timeline that you can customize to suit your project's needs. Whether you need a high-level overview or a detailed timeline, this software allows you to create timelines that tell the story of your project at a glance.
Why Buy Microsoft Project Professional 2016 Pro Key from www.CheckKeys.com?
Now that you've seen the incredible features of Microsoft Project Professional 2016 Pro Key, you might be wondering why you should get it from www.CheckKeys.com. Here's why:
Money-Back Guarantee: We are so confident in the quality of our product that we offer a money-back guarantee. If you're not completely satisfied with your purchase, we'll refund your money, no questions asked. Your satisfaction is our priority.
Genuine Product Key: At www.CheckKeys.com, we only provide genuine product keys. You can trust that your purchase is authentic and will work seamlessly with your software. Say goodbye to counterfeit keys and enjoy the peace of mind that comes with a genuine product.
Fast Product Activation: We understand that time is of the essence when it comes to project management. That's why we ensure fast product activation. Once you receive your product key, you can activate your software quickly and get started on your projects without delay.
Fast Email Delivery: We know you're eager to start using Microsoft Project Professional 2016 Pro Key, which is why we guarantee fast email delivery. You'll receive your product key in your inbox within 2 to 24 hours of placing your order. No more waiting around – you'll be up and running in no time.
24-Hour Customer Support: Need assistance or have questions? Our dedicated customer support team is available 24/7 to help you with any inquiries or issues you may have. We're here to ensure your experience with www.CheckKeys.com is seamless and stress-free.
Don't Miss Out - Act Now!
The power of Microsoft Project Professional 2016 Pro Key for 1 PC can't be overstated. It's the ultimate tool for project managers and teams looking to achieve success in their projects. And the best part? You can get it exclusively from www.CheckKeys.com, your trusted source for digital product keys.
But here's the catch – this amazing product is available at an incredible discount, but we can't guarantee how long this offer will last. With the urgency of project deadlines and the need for efficient project management, there's no time to waste. Take advantage of this opportunity and elevate your project management skills to new heights.
Remember, with our money-back guarantee, genuine product key, fast product activation, fast email delivery, and 24-hour customer support, you have nothing to lose and everything to gain. Don't let this opportunity slip through your fingers. Invest in Microsoft Project Professional 2016 Pro Key today and watch your projects soar to new levels of success.
Get ready to revolutionize your project management experience – grab your Microsoft Project Professional 2016 Pro Key for 1 PC now, exclusively at www.CheckKeys.com. Your projects deserve the best, and with this software, you'll have the tools you need to excel.