Microsoft Office 365 Business Standard
Microsoft Office 365 Business Standard 1 Year Subscription - 1 User
Microsoft Office 365 Business Standard 1-Year Subscription - 1 User
In today's fast-paced digital world, having the right tools at your fingertips can make all the difference in your business endeavors. Microsoft Office 365 Business Standard is the ultimate productivity suite that empowers you to achieve more, collaborate seamlessly, and stay ahead of the curve. At www.CheckKeys.com, we are excited to offer you a chance to supercharge your productivity with this one-of-a-kind digital product. Get ready to explore the incredible features of Microsoft Office 365 Business Standard and discover how it can transform your professional life.
Why Microsoft Office 365 Business Standard?
Familiar Applications, Enhanced Productivity: One of the key reasons to choose Microsoft Office 365 Business Standard is its extensive suite of familiar applications that have been enhanced to boost your productivity. Word, Excel, PowerPoint, and Outlook have been reimagined to provide you with cutting-edge features and tools, ensuring that your work is not only efficient but also impressive. Word, the industry-standard word processing software, now comes with a host of collaboration features that allow you to work on documents in real-time with colleagues. Excel has powerful data analysis tools, while PowerPoint lets you create stunning presentations effortlessly. Outlook keeps your emails organized, and with the added benefit of OneDrive for Business, you have a secure and accessible place to store all your files.
Access from Anywhere, Anytime: In the modern business landscape, flexibility is key. Microsoft Office 365 Business Standard provides you with the freedom to work from anywhere, anytime. Whether you're in the office, on the road, or working from home, your documents are always accessible. All you need is an internet connection, and you can access your files on the cloud through OneDrive for Business. This mobility ensures you never miss an opportunity or a deadline.
Collaboration Made Easy: Collaboration is at the heart of successful businesses, and Microsoft Office 365 Business Standard understands that. With tools like Teams and SharePoint, you can work seamlessly with your team members, whether they are across the hall or across the globe. Share, edit, and collaborate on documents in real-time, making teamwork more efficient and effective.
Cutting-Edge Security: Your data is your most valuable asset, and Microsoft understands that. Office 365 Business Standard offers top-notch security features, including data loss prevention, threat protection, and identity management. Rest easy knowing that your documents and communications are protected from potential threats and breaches.
Regular Updates and Upgrades: With a Microsoft 365 subscription, you'll always have access to the latest features and updates. Say goodbye to the hassle of purchasing new software versions every few years. Your Office 365 apps will automatically update, ensuring you're always working with the most current and secure tools available.
Streamlined Email Management: Outlook, the world-renowned email client, comes with advanced email management tools. Stay organized with features like focused inbox, calendar sharing, and advanced spam filters. Communicate effortlessly with colleagues, clients, and partners, knowing that your email is in safe hands.
1 User, 1-Year Subscription: This product includes a one-year subscription for one user. It's perfect for small businesses, freelancers, or anyone looking to boost their individual productivity. And the best part? It's available at a significant discount on www.CheckKeys.com, but act fast, because this incredible offer won't last forever!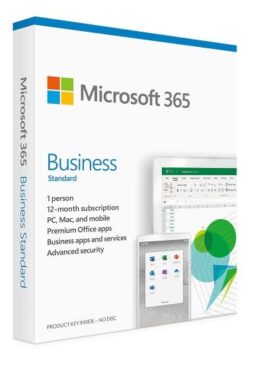 The Urgency to Buy Now
In the world of business, time is money, and the clock is always ticking. That's why the urgency to invest in Microsoft Office 365 Business Standard from www.CheckKeys.com is so crucial. Here's why you should act now:
Limited Time Offer:
Our exclusive discount on Microsoft Office 365 Business Standard is available for a limited time only. We've slashed the price, making it more affordable than ever. But this incredible offer won't last forever. Don't miss your chance to get the tools you need to supercharge your productivity.
Money-Back Guarantee: We believe in the quality and authenticity of our product keys. That's why we offer a money-back guarantee. If you're not completely satisfied with your purchase, we'll refund your money, no questions asked. You have nothing to lose and everything to gain by taking advantage of this fantastic offer.
Genuine Product Key: www.CheckKeys.com is committed to providing genuine product keys that are 100% authentic and legitimate. Say goodbye to the worries of counterfeit or pirated software. With us, you'll receive a product key that unlocks the full potential of Microsoft Office 365 Business Standard.
Fast Product Activation: Time is of the essence, and we understand that. When you purchase Microsoft Office 365 Business Standard from www.CheckKeys.com, you'll experience lightning-fast product activation. Get up and running in no time, so you can start working more efficiently immediately.
Fast Email Delivery: We pride ourselves on our fast and reliable email delivery system. When you place an order, you can expect to receive your product key within 2 to 24 hours. No waiting around, no delays – just quick access to the tools you need.
24-Hour Customer Support: At www.CheckKeys.com, we're here for you around the clock. If you have any questions, concerns, or need assistance with your purchase, our dedicated customer support team is ready to help. We're committed to ensuring your buying experience is smooth and hassle-free.
Conclusion
Microsoft Office 365 Business Standard is not just a software suite; it's a game-changer for your business or professional endeavors. With its powerful applications, seamless collaboration tools, and top-notch security features, you'll be more productive and efficient than ever before. And with the exclusive discount available at www.CheckKeys.com, there has never been a better time to invest in this remarkable product.
Don't wait! Seize the opportunity to transform your work life, increase your productivity, and stay ahead of the competition. With our money-back guarantee, genuine product keys, fast activation, and 24-hour customer support, www.CheckKeys.com has your back every step of the way.
Take action now and make Microsoft Office 365 Business Standard a part of your success story. Your future self will thank you for it.