Microsoft SQL Server 2017 Standard Edition 64-Bit 
Microsoft SQL Server 2017 Standard Edition 64-Bit License Key | Product Key
Unlock the Power of Data with Microsoft SQL Server 2017 Standard | 2 Core With Unlimited CALs
In today's data-driven world, the ability to harness and manage data efficiently is paramount. For businesses, big or small, data is not just a resource; it's a lifeline to success. To make the most of your data, you need a robust, reliable, and feature-rich database management system, and that's where Microsoft SQL Server 2017 Standard comes into play. At www.CheckKeys.com, we offer you this incredible digital product with unmatched value – 2 Core With Unlimited CALs – at an irresistible discount. Don't miss out on this opportunity to supercharge your data management capabilities!
Why Microsoft SQL Server 2017 Standard?
Let's dive into the myriad of features that make Microsoft SQL Server 2017 Standard the ultimate choice for businesses seeking to optimize their data operations:
High Performance: Microsoft SQL Server 2017 Standard is engineered to deliver blazing-fast performance. With support for in-memory processing, your queries will execute at lightning speed, ensuring that you get real-time insights when you need them most. Whether it's running complex analytics or managing large volumes of transactions, SQL Server 2017 Standard won't break a sweat.
Advanced Security: Data security is a top priority in today's digital landscape. SQL Server 2017 Standard is equipped with state-of-the-art security features, including robust encryption, authentication, and auditing capabilities. Protect your sensitive data and comply with regulatory requirements effortlessly.
Scalability: As your business grows, so does your data. SQL Server 2017 Standard scales with you, offering the flexibility to expand your database without compromising on performance. This scalability ensures that your database can handle the ever-increasing data volumes and user demands.
Business Intelligence: Unlock the power of data-driven decision-making with SQL Server 2017 Standard's robust Business Intelligence tools. Create interactive reports, stunning visualizations, and insightful dashboards to gain valuable insights into your operations, helping you make informed choices and drive growth.
Always-On Availability: Downtime can be costly, but with SQL Server 2017 Standard's Always-On Availability Groups, you can achieve high availability and disaster recovery like never before. Keep your business running smoothly, even in the face of unexpected outages.
Easy Integration: SQL Server 2017 Standard seamlessly integrates with other Microsoft products and services, including Azure, Power BI, and Excel. This ensures that your data flows effortlessly throughout your organization, facilitating collaboration and innovation.
Compliance and Audit Trails: For industries with strict compliance requirements, SQL Server 2017 Standard is a trusted solution. Easily generate audit trails and compliance reports to meet the demands of regulatory bodies and internal audits.
Enhanced Data Warehousing: With support for data warehousing and analytics, SQL Server 2017 Standard transforms raw data into actionable insights. Harness the power of your data to identify trends, make predictions, and stay ahead of the competition.
Support for Machine Learning: Stay at the forefront of technology by integrating machine learning models into your applications. SQL Server 2017 Standard offers built-in support for R and Python, making it easier than ever to leverage the benefits of machine learning.
Streamlined Management: SQL Server 2017 Standard comes with a user-friendly management interface, making it easy for database administrators to monitor, troubleshoot, and optimize their database environments.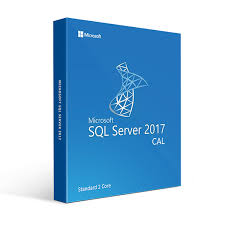 Why Choose www.CheckKeys.com?
At www.CheckKeys.com, we are committed to providing you with the best digital product experience. When you purchase Microsoft SQL Server 2017 Standard | 2 Core With Unlimited CALs from us, you not only get access to this incredible software but also enjoy a host of benefits:
Money-Back Guarantee: We believe in the quality and authenticity of our product keys. If for any reason you're not satisfied, we offer a money-back guarantee to ensure your peace of mind.
Genuine Product Key: When you buy from us, you receive a genuine Microsoft SQL Server 2017 Standard product key. Say goodbye to counterfeit software and hello to reliability.
Fast Product Activation: We understand that time is of the essence. That's why we ensure swift product activation, so you can start using SQL Server 2017 Standard without delay.
Fast Email Delivery: No need to wait endlessly for your product key. Our fast email delivery ensures that you receive your key within 2 to 24 hours of placing your order, regardless of your time zone.
24-Hour Customer Support: Have questions or encounter any issues? Our dedicated customer support team is available 24/7 to assist you. Your satisfaction is our top priority.
Act Now – Unlock Your Data Potential
The world of data is evolving rapidly, and having the right tools is crucial for staying competitive. Microsoft SQL Server 2017 Standard | 2 Core With Unlimited CALs is your ticket to superior data management, performance, and security. Don't miss out on this exclusive offer from www.CheckKeys.com.
But remember, this amazing deal won't last forever. The time to act is now! With our discounted pricing, money-back guarantee, and fast email delivery, there's no reason to delay. Embrace the future of data management and make the smart choice today.
In today's fast-paced business environment, the ability to harness data and turn it into actionable insights is a game-changer. Microsoft SQL Server 2017 Standard | 2 Core With Unlimited CALs is your key to success. Trust www.CheckKeys.com to deliver a genuine product that will empower your business to thrive in the data-driven era. Your data deserves the best – seize this opportunity and elevate your data management capabilities to new heights!