MICROSOFT SQL SERVER 2012 STANDARD
Unlock the Power of Data with Microsoft SQL Server 2012 Standard
In the rapidly evolving landscape of data management, having the right tools at your disposal is crucial for success. Enter Microsoft SQL Server 2012 Standard, a powerhouse digital product that is poised to revolutionize the way you handle data. At www.CheckKeys.com, we are thrilled to offer you this exceptional software at an irresistible discount, ensuring you can harness its full potential without breaking the bank.
Why Microsoft SQL Server 2012 Standard?
Data is the lifeblood of modern enterprises, and managing it efficiently is non-negotiable. Microsoft SQL Server 2012 Standard stands as a beacon of reliability, scalability, and performance in the world of database management systems. Let's dive into the features that make it a must-have for businesses of all sizes and industries.
Robust Data Security: Your data is your most valuable asset, and protecting it is paramount. Microsoft SQL Server 2012 Standard fortifies your data with advanced security features, including Transparent Data Encryption (TDE) and enhanced auditing capabilities. With TDE, your data remains encrypted both at rest and in transit, safeguarding it against unauthorized access.
High Availability and Disaster Recovery: Downtime can be catastrophic for businesses. SQL Server 2012 Standard offers high availability solutions like AlwaysOn Availability Groups, ensuring your critical applications remain accessible even during hardware failures or maintenance. Coupled with efficient disaster recovery options, your business can weather any storm with ease.
Scalability Beyond Limits: Whether you're a small startup or a large enterprise, SQL Server 2012 Standard scales to meet your needs. Its innovative Resource Governor lets you allocate resources efficiently, ensuring optimal performance even as your data grows. It's the key to staying agile in a competitive market.
Business Intelligence Integration: Turn your data into actionable insights with SQL Server 2012 Standard's seamless integration with Microsoft's suite of business intelligence tools. Unlock the potential of your data through intuitive reporting, analytics, and data visualization.
Streamlined Management and Monitoring: Administering your database has never been easier. SQL Server 2012 Standard's Management Studio provides a user-friendly interface for database administrators to manage and monitor the system efficiently. Get real-time insights into performance, resource utilization, and query optimization, all in one place.
Enhanced Performance: Time is money, and SQL Server 2012 Standard delivers unmatched performance. Its query optimization engine ensures that your database runs at peak efficiency, enabling faster data retrieval and processing. Say goodbye to frustrating delays.
Developer-Friendly Environment: Empower your developers with a platform that supports rapid application development. SQL Server 2012 Standard offers robust tools and a developer-friendly environment, reducing development time and costs. Bring your ideas to life faster than ever before.
Regulatory Compliance: In today's data-driven world, compliance with industry regulations is non-negotiable. SQL Server 2012 Standard includes features like auditing, encryption, and data masking to help you meet compliance requirements effortlessly.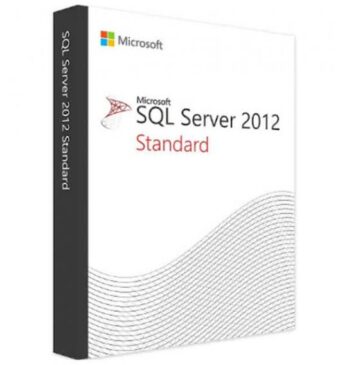 The Urgency to Act Now!
Now, you may be wondering why you should act swiftly to secure your copy of Microsoft SQL Server 2012 Standard from www.CheckKeys.com. Here's why:
Unbeatable Discount: Our special offer ensures that you can acquire this exceptional product at an unprecedented discount. Seize this opportunity to enhance your data management capabilities without straining your budget.
Money-Back Guarantee: At www.CheckKeys.com, we stand by the authenticity and quality of our products. We offer a rock-solid money-back guarantee, providing you with peace of mind. If you encounter any issues with your product key, we've got you covered.
Genuine Product Key: Rest assured that the product key you receive from us is 100% genuine. Counterfeit keys can lead to security vulnerabilities and headaches down the road. With us, authenticity is never in question.
Dast Product Activation: Time is of the essence, and we understand that. Our seamless activation process ensures that you can start using SQL Server 2012 Standard right away, without any delays.
Lightning-Fast Email Delivery: Say goodbye to waiting endlessly for your software. At www.CheckKeys.com, we pride ourselves on delivering your product key via email within 2 to 24 hours of your order. Your productivity won't skip a beat.
24-Hour Customer Support: We're here for you around the clock. Should you have any questions, concerns, or technical issues, our dedicated customer support team is ready to assist you, ensuring a smooth experience from start to finish.
In the age of data-driven decision-making, having the right tools at your disposal is non-negotiable. Microsoft SQL Server 2012 Standard empowers you to take control of your data, secure it with utmost confidence, and harness its potential to drive your business forward.
Don't miss out on this incredible opportunity to acquire Microsoft SQL Server 2012 Standard at an irresistible discount. Act now, and embark on a journey towards better data management, enhanced security, and unrivaled performance.
At www.CheckKeys.com, we are committed to delivering genuine, high-quality products with fast activation and outstanding customer support. Your success is our priority, and we're here to help you every step of the way.
Secure your copy of Microsoft SQL Server 2012 Standard today and unlock a world of possibilities for your business. Don't wait; the time to act is now!