Microsoft SQL Server 2019 Enterprise Activation Key
MICROSOFT SQL SERVER 2019 Enterprise - Unlimited Cores
Unleash the Power of Data with Microsoft SQL Server 2019 Enterprise
In the fast-paced world of digital transformation, having a robust and reliable data management system is not just an advantage but a necessity. Enter Microsoft SQL Server 2019 Enterprise, the digital age's ultimate solution to data management, available at a limited-time discount on www.CheckKeys.com. If you want to stay competitive, make informed decisions, and supercharge your data-driven operations, this is the product you've been waiting for. Don't miss out on this opportunity; read on to discover the remarkable features of Microsoft SQL Server 2019 Enterprise.
Harness the Power of Big Data
In today's data-driven landscape, managing and harnessing the power of big data can make or break a business. Microsoft SQL Server 2019 Enterprise understands this and comes equipped with cutting-edge features to handle your data needs.
Big Data Clusters: Seamlessly integrate and analyze your structured and unstructured data from various sources. From Hadoop to Apache Spark, Microsoft SQL Server 2019 Enterprise lets you work with big data technologies effortlessly.
Data Virtualization: Eliminate the need to move or copy data between systems. With data virtualization, you can access and query data from different sources as if they were a part of your SQL Server database.
Intelligent Query Processing: Experience lightning-fast query performance with adaptive query processing. Your complex queries are automatically optimized, leading to reduced query times and increased efficiency.
Enhanced Security and Compliance
Data security is paramount in today's digital landscape. Microsoft SQL Server 2019 Enterprise offers a multitude of features to keep your data safe and compliant with industry regulations. Always Encrypted with Secure Enclaves: Safeguard your sensitive data with industry-leading encryption. Even authorized users can't access the data without the appropriate permissions, ensuring utmost security.
Data Classification: Simplify data governance by automatically classifying sensitive data. This helps you comply with regulations like GDPR and HIPAA effortlessly.
Transparent Data Encryption (TDE): Protect your data at rest with TDE. It encrypts the entire database, providing an extra layer of security against unauthorized access.
High Availability and Performance
Downtime is not an option in the digital world, and Microsoft SQL Server 2019 Enterprise guarantees high availability and unmatched performance.
Always On Availability Groups: Ensure your database is always available, even in the face of hardware failures. With automatic failover, your applications can continue running seamlessly.
In-Memory Database: Experience lightning-fast transaction processing with in-memory technology. It's designed to accelerate your most critical workloads, providing a competitive edge.
Resource Governance: Optimize your server resources with enhanced resource governance. You can control resource consumption and ensure fair use across multiple workloads.
Advanced Analytics and AI Integration
Unlock the potential of your data with advanced analytics and AI integration, made possible by Microsoft SQL Server 2019 Enterprise.
Machine Learning Services: Seamlessly integrate R and Python for in-database analytics. Build intelligent applications and make data-driven decisions with ease.
Graph Database: Visualize and explore complex relationships within your data using graph database capabilities. Uncover hidden patterns and insights that can drive your business forward.
PolyBase: Access and analyze external data with PolyBase. Whether it's in Hadoop, Azure Blob Storage, or another external source, you can query it as if it were native SQL data.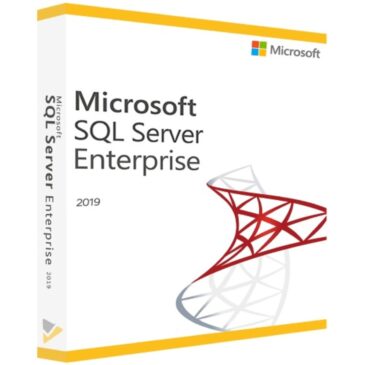 Scalability and Flexibility
Your business isn't static, and neither should your data management system be. Microsoft SQL Server 2019 Enterprise offers scalability and flexibility to meet your evolving needs.
Container Support: Embrace containerization for flexibility in deployment. You can run SQL Server 2019 Enterprise in Docker containers, making it easier to manage and scale your database.
Adaptive Query Processing: Automatically adapt to changing workloads and query patterns. Your database performance will always be optimized for the best results.
Enhanced PolyBase Performance: Query and analyze data across multiple sources with improved PolyBase performance. It's now faster and more efficient than ever before.
Streamlined Management and Monitoring
Managing your data should be hassle-free, and Microsoft SQL Server 2019 Enterprise simplifies the process.
SQL Server Management Studio (SSMS): Easily manage, configure, and monitor your SQL Server with the user-friendly SSMS. From database creation to performance tuning, it's your one-stop solution.
SQL Server Agent: Automate tasks, schedule jobs, and proactively manage your database with SQL Server Agent. Keep your systems running smoothly without constant manual intervention.
SQL Server Profiler: Monitor and analyze your database activity with SQL Server Profiler. Gain insights into performance bottlenecks and optimize your database for peak efficiency.
Seize the Opportunity with www.CheckKeys.com
Now, you might be wondering where to get Microsoft SQL Server 2019 Enterprise at an irresistible price without breaking the bank. Look no further than www.CheckKeys.com, your trusted source for genuine product keys and digital products. When you purchase Microsoft SQL Server 2019 Enterprise from www.CheckKeys.com, you're not only securing a top-tier data management solution but also benefiting from a range of exceptional services:
Money-Back Guarantee: We're confident in the authenticity and quality of our product keys. If you encounter any issues, our money-back guarantee has you covered.
Genuine Product Key: Rest assured that you're receiving a legitimate Microsoft SQL Server 2019 Enterprise product key. Say goodbye to counterfeit keys and enjoy peace of mind.
Fast Product Activation: Get up and running quickly with our fast and straightforward product activation process. No more waiting; start using SQL Server 2019 Enterprise right away.
Fast Email Delivery: We understand the urgency of your data needs. That's why we guarantee email delivery of your product key within 2 to 24 hours of placing your order.
24-Hour Customer Support: Need assistance or have questions? Our 24-hour customer support service is here to help you every step of the way.
Don't miss this limited-time opportunity to supercharge your data management capabilities with Microsoft SQL Server 2019 Enterprise. Upgrade your business, make smarter decisions, and stay ahead of the competition. Act now, secure your copy, and unlock the full potential of your data with www.CheckKeys.com. Your digital transformation journey begins here!