Microsoft SQL Server 2019 Standard Activation Key
MICROSOFT SQL SERVER 2019 Standard - Unlimited Cores
Lifetime / OneTime Activation
Unlock the Power of Data with Microsoft SQL Server 2019 Standard
In the ever-evolving digital landscape, data reigns supreme. Every byte of information is a valuable asset, waiting to be harnessed for insight and innovation. And when it comes to managing, analyzing, and securing your data, Microsoft SQL Server 2019 Standard stands as an unassailable fortress, ready to empower your organization's data-driven journey. At www.CheckKeys.com, we bring you this unparalleled digital product, packed with features that will elevate your data management capabilities to new heights. Don't miss out on this incredible opportunity to transform your business, and read on to discover why Microsoft SQL Server 2019 Standard is an indispensable addition to your arsenal.
Why Microsoft SQL Server 2019 Standard?
Seize the Power of Data
The heart of any modern business lies in its data, and SQL Server 2019 Standard is your key to unlocking its full potential. With this powerful relational database management system (RDBMS), you'll harness the power of your data like never before. Whether it's structured or unstructured data, SQL Server 2019 Standard provides a robust platform for managing, storing, and querying your information.
Cutting-Edge Features
SQL Server 2019 Standard isn't just an upgrade; it's a technological leap. Let's delve into some of its exceptional features:
Big Data Clusters: In today's data landscape, big data is the norm. SQL Server 2019 Standard embraces this challenge with Big Data Clusters. It seamlessly integrates with Apache Spark and Hadoop Distributed File System (HDFS), allowing you to process and analyze vast amounts of data with ease.
Enhanced Security: Data security is paramount. With features like Always Encrypted, SQL Server 2019 Standard ensures that your sensitive data remains encrypted both at rest and in transit. Role-based access control and dynamic data masking provide an extra layer of security, allowing you to comply with industry regulations effortlessly.
Intelligent Query Processing: Performance matters, and SQL Server 2019 Standard delivers with Intelligent Query Processing. It adapts to your workload's specific needs, optimizing query performance and reducing resource contention. Say goodbye to slow and cumbersome data retrieval.
Linux Compatibility: Embrace flexibility with SQL Server 2019 Standard's Linux compatibility. It's no longer tied to a Windows environment, allowing you to deploy it on your preferred operating system, including Linux and Docker containers.
Data Virtualization: Break down data silos and access data from multiple sources effortlessly. With data virtualization, SQL Server 2019 Standard enables you to query and analyze data from external sources like Oracle, Teradata, and MongoDB seamlessly.
Enhanced Data Analytics: Uncover valuable insights with built-in advanced analytics. Use Python and R integration to perform data analysis directly within the database, eliminating the need to move data between systems.
Automated Tuning: SQL Server 2019 Standard is smart. It uses adaptive query processing and automatic index management to optimize database performance, reducing the need for manual intervention.
High Availability: Downtime is costly. Ensure business continuity with SQL Server 2019 Standard's high availability features, including Always On Availability Groups and automatic failover, providing uninterrupted access to your data.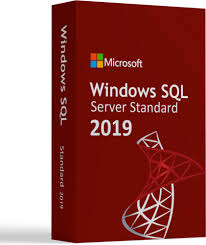 Immediate Benefits
You might be wondering why you should act now. Well, there's an urgency that surrounds this offer. The opportunity to transform your data management capabilities at a discount this substantial doesn't come around often. Microsoft SQL Server 2019 Standard typically comes with a hefty price tag, but at www.CheckKeys.com, we're offering it at an exclusive price that will leave your budget smiling.
But that's not all. We understand the importance of trust when it comes to digital products. That's why we offer a genuine product key, ensuring that your investment is secure. When you purchase SQL Server 2019 Standard from www.CheckKeys.com, you'll receive a product key that's legitimate and verifiable.
What's more, we believe in delivering your product quickly, because we understand that time is of the essence. That's why we guarantee fast email delivery within 2 to 24 hours of all orders. Your journey to data excellence can begin almost immediately.
Additionally, we're committed to providing you with the support you need. Our 24-hour customer support service is always ready to assist you. Whether you have questions about installation, configuration, or any other aspect of SQL Server 2019 Standard, our dedicated team is here to help.
Our Promise: Money-Back Guarantee
At www.CheckKeys.com, your satisfaction is our top priority. We're confident in the quality of the products we offer, and we back that confidence with a money-back guarantee. If you encounter any issues with your SQL Server 2019 Standard purchase, rest assured that we'll make it right.
Your investment is protected.
Don't Miss Out - Act Now!
In today's fast-paced business world, data is your most valuable asset. Every second counts, and every insight gained can propel your organization forward. With Microsoft SQL Server 2019 Standard, you're not just buying software; you're investing in the future of your business.
The clock is ticking. The opportunity to transform your data management capabilities and embrace the future is now. Don't miss out on this exclusive offer from www.CheckKeys.com. Act immediately to secure your copy of Microsoft SQL Server 2019 Standard at an unbeatable price.
Seize the power of data, enhance your security, and gain a competitive edge with SQL Server 2019 Standard. Experience the benefits of big data clusters, intelligent query processing, Linux compatibility, and more. Make data-driven decisions with confidence, knowing that www.CheckKeys.com has your back with genuine product keys, fast email delivery, and 24-hour customer support.
Remember, this offer won't last forever. The time to act is now. Transform your data management, drive innovation, and elevate your business with Microsoft SQL Server 2019 Standard. Unlock the future of data today!