Windows Server 2016 Datacenter Product Key
Windows Server 2016 Datacenter: Unleash the Power of Your Business Infrastructure In the digital age, your business needs to stay agile, secure, and efficient. To meet these demands, you require a robust server solution that can handle it all. Look no further than Windows Server 2016 Datacenter – the ultimate solution for modern businesses. Welcome to a world of unparalleled performance, security, and scalability, all within your grasp at a tremendous discount on www.CheckKeys.com.
Elevate Your Business to New Heights
The Foundation of Your Success: Your server is the backbone of your business operations, and Windows Server 2016 Datacenter is the bedrock upon which success is built. With its array of powerful features, it empowers your business to reach new heights.
Hyper-V Virtualization: Say goodbye to the limitations of physical hardware. Windows Server 2016 Datacenter offers a revolutionary Hyper-V virtualization platform, allowing you to create and manage virtual machines with ease. Whether you need to streamline IT management, reduce infrastructure costs, or enhance workload mobility, Hyper-V is your answer.
Enhanced Security Features: In today's world, data security is paramount. Windows Server 2016 Datacenter offers advanced security features, such as Windows Defender and Control Flow Guard, to safeguard your critical data and applications against emerging threats. Rest easy knowing your business is protected by cutting-edge security measures.
Improved Storage Options: Managing vast amounts of data has never been this efficient. Benefit from scalable storage options like Storage Spaces Direct and Storage Replica, ensuring that your data is always accessible, redundant, and fault-tolerant. No more worries about data loss or downtime.
Application Innovation: Stay ahead of the curve with Windows Server 2016 Datacenter's support for containers and microservices. Run and manage your applications with unparalleled agility, enabling faster development and deployment cycles.
Software-Defined Networking: Experience the flexibility and cost-effectiveness of a software-defined network. Windows Server 2016 Datacenter empowers you to create, manage, and secure network resources, providing a responsive and agile network infrastructure.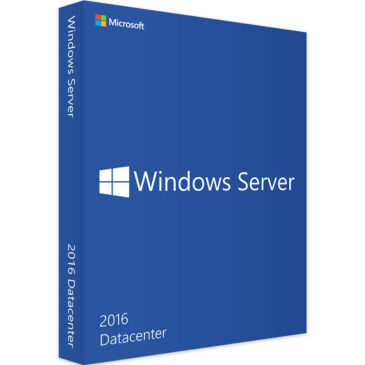 Why Choose Windows Server 2016 Datacenter?
Urgency Meets Opportunity
Your business can't afford to wait. With the incredible discount available on www.CheckKeys.com, this is the moment to seize the opportunity and upgrade to Windows Server 2016 Datacenter. Our limited-time offer ensures you get the best value for your investment.
Genuine Product Key Guarantee
We understand the importance of authenticity. That's why www.CheckKeys.com offers a genuine product key guarantee with every purchase. Say goodbye to counterfeit keys and the risks associated with them. Your peace of mind is our priority.
Fast Product Activation
Time is money, and with Windows Server 2016 Datacenter, you won't waste a second. Our product activation process is lightning-fast, ensuring that you can start using the server's powerful features immediately.
Swift Email Delivery
You don't have to wait endlessly to access your purchase. At www.CheckKeys.com, we value your time. Our email delivery system ensures that you receive your product key and instructions within 2 to 24 hours of placing your order. Your business can't afford to wait, and we won't make you.
24-Hour Customer Support
We're here for you around the clock. Should you encounter any issues or have questions, our dedicated customer support team is available 24/7 to assist you. Your satisfaction is our top priority.
A Sound Investment for Your Business
Your business deserves the best, and that's exactly what Windows Server 2016 Datacenter offers. With its unmatched features and the unbeatable discount available at www.CheckKeys.com, investing in this server solution is a sound decision that will pay dividends for years to come.
Streamlined IT Management:
Simplify your IT infrastructure management with Windows Server 2016 Datacenter. Centralize control and automate routine tasks, freeing up your IT staff to focus on strategic initiatives.
Optimized Performance:
Experience lightning-fast performance and responsiveness. Windows Server 2016 Datacenter is engineered to handle even the most demanding workloads, ensuring your business operates at peak efficiency.
Enhanced Scalability: As your business grows, so should your server solution. Windows Server 2016 Datacenter scales with your needs, allowing you to add resources seamlessly and without disruption.
Cost Efficiency: Reduce operational costs while maximizing ROI. With features like Hyper-V virtualization, you can consolidate workloads and make the most of your hardware investments.
Seamless Migration: Upgrading from previous versions of Windows Server? Windows Server 2016 Datacenter offers a smooth migration path, ensuring minimal disruption to your business operations.
Cloud Integration: Harness the power of the cloud with deep integration with Microsoft Azure. Extend your on-premises infrastructure into the cloud for increased flexibility and cost savings.
The Time to Act Is Now!
In the fast-paced world of business, every moment counts. The longer you wait, the more opportunities you might miss. Windows Server 2016 Datacenter is the key to unlocking your business's full potential.
Act Now:
Don't let this amazing offer slip through your fingers. Visit www.CheckKeys.com today and secure your Windows Server 2016 Datacenter license at an unprecedented discount. Your business deserves nothing but the best, and this is your chance to make it happen.
Invest with Confidence: Rest assured that your investment is protected by **www.CheckKeys.com**'s money-back guarantee. If you're not completely satisfied with your purchase, we'll refund your money, no questions asked. Your satisfaction is our commitment.
24/7 Support: to Our dedicated customer support team is here for you, 24 hours a day, 7 days a week. Have questions? Encountered an issue? We're just a click or call away, ready to assist you.
Upgrade your business infrastructure to the next level with Windows Server 2016 Datacenter. The future is here, and it's waiting for you. Don't miss out—act now and secure your business's success.